Movies
Review: 'Ant-Man and the Wasp'
Two tiny heroes is better than one in the 'Ant-Man' sequel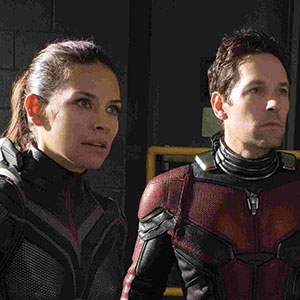 It's a terrible thing to lose your mother, particularly when she shrinks down to a nano-particle. Hope (Evangeline Lilly) is the daughter of the original superhero Wasp (Michelle Pfeiffer), who vanished, shrinking suit and all, into the inner-space labyrinth decades ago. Her father, the original Ant-Man, crusty Dr. Hank Pym (Michael Douglas) raised Hope alone.
During Scott Lang's sojourn in the infinitesimal, he picked up a signal from the lost Wasp. Unfortunately, Scott (Paul Rudd) is in no legal position to help Hank and Hope, being under house arrest for violating the Sokovia Accords, as seen in Captain America: Civil Wars. (His probation is enforced by Randall Park, a soft-witted FBI agent whose vocation—"youth pastor"—says it all.)
An all-important gizmo of some sort is in play between the Pyms, a folksy but lethal arms dealer (Walton Goggins) and the tormented sufferer of "molecular dis-equilibrium" known as Ghost (Hannah John-Kamen, far more interesting than she was in Ready Player One). Freed (illegally) from his ankle collar, Scott still has problems with his daughter Cassie (the charming Abby Ryder Fortson) who calls him when he's tied up and being interrogated by a villain.
In addition to all the superhero color—the fights and aerial madness— Ant-Man and the Wasp has a great deal of San Francisco terroir. The perspective of the city's heights and flats mirror the ever-changing size of the hapless hero, big enough to wade around like the Colossus of Rhodes near Fisherman's Wharf, and tiny enough to brave the Quantum Realm. ("Do you guys put the word 'quantum' in front of everything?," Scott complains.) In a movie where a building can be shrunk and wheeled away like an airport suitcase, or a fleet of cars can be carried in a Hot Wheels Rally Case, even Stan Lee gets in an acid-flashback joke to go with the fantasmagorica.
Everything that seemed patchy and desperate in the original runs smoothly here. The movie's sidebars are as wide as a hippie's lapels, but all of it pays off: from an inch-high car in a Bullitt chase to the vaudeville accents of Scott's pals at the X-Con Security System—Michael Peña as the dithering boss, and the comedy-Russky David Dastmalchian, in yet more Slavic superstitious awe.
This is a wonderful toy that one imagines young girls in particular would like—and it's hard to believe that there will be anything funnier this summer. The ending, in a tribute to the drive-in movie experience, shows that it's gauged its weight perfectly. It has all the ingenuity and a lot more of the feelings the first one was groping around for.
Ant-Man and the Wasp
2 hrs; PG-13
Opens Jul 5 valleywide