Movies
Review: 'Ant-Man'
'Ant-Man' mostly manages to honor conventions and avoid cliches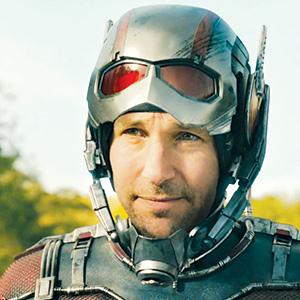 Never saw a miniaturization movie I didn't like, particularly Joe Dante's neglected, Valley-set Inner Space (1987). Ant-Man doesn't break the streak, even if it's a multi-writer, battered blockbuster that praises the importance of "commitment." Hark at that message and recall the messy way this movie was made, with its firings and rewrites galore.
Set in San Francisco and on Treasure Island, Ant-Man tells of how scientist Hank Pym (Michael Douglas) seeks to keep the shrinking suit he devised back in the '60s out of the hands of his former employers, S.H.I.E.L.D. Unfortunately, new management at the company he founded is duplicating the experiments on the "Pym Particle" formula. Pym selects Scott Lang (Paul Rudd) a cat burglar just released from San Quentin, to steal back the new iteration of the Ant-Man suit. It's the Yellowjacket, a bee-sized carapace equipped with tiny lasers, perfect for stealth assassination and surveillance. It will take a village of ants, led telepathically by a pea-sized hero, to steal back this terrible weapon.
Watching Scott's back are his prison pals, a gang of mixed-ethnic caricatures. Their leader is Michael Pena as Luis, doing the Hispanic motormouth routine. After years of comparison studies involving low comedy, it's proven that the Slavic accent is the sovereign funny dialect, beating even German. David Dastmalchian cuts the indefinite articles here and has the single best line in the movie—a Borat-worthy explanation for the power of the ant-suit.
Director Peyton Reed sets up Ant-Man as a story of a parallel set of fathers, high and low, levered into action by their daughters—"It's not about saving our world, it's about saving theirs," Pym says. Scott has to turn to crime to pay child-support on his adorable daughter with the two front teeth missing. Pym quarrels with his restless 30-something offspring, Hope (Evangeline Lilly, with a Louise Brooks coiffure). She's bitter with the full wrath of a would-be superheroine whose father won't let her wear the amazing Ant-Suit. Dad's decision—it's a fairly dumb decision—is made because of backstory, soon to be revealed.
Playing defense: Corey Stoll's Darren Cross is less like Vin Diesel and more like Telly Savales' Blofeld from On Her Majesty's Secret Service (1969). After he's turned a rival into a chewing gum sized blob using a defective shrink ray, Reed gives Stoll a moment—letting him study his reflection in the mirror so Cross can decide if murder has changed his looks. He has "the villain's haircut," in the phrase of the late Batman writer Lorenzo Semple Jr. If this evil baldie isn't as richly wrong as Oscar Isaacs was in Ex Machina, he is surprisingly formidable.
What the fired director Edgar Wright (Shaun of the Dead, etc.) brought to Ant-Man can be guessed from a pair of sequences where Pena's Luis describes how word on the street arrived to him. Luis's slang is dubbed into the mouths of a dozen different people, gossiping to each other. Similar play with flashbacks and flash-forwards—the stuff at which Wright excels—would have sped the storytelling. Speed would have helped; there are many moments in Ant-Man that are floor-sweepings from other superhero opuses. Time yet again for another training montage, with Lilly's Hope savagely beating the hell out of Scott.
Ant-Man has to negotiate a narrow path between honoring the conventions and avoiding the cliches. Mostly it does. Ultimately it delivers what was promised, as well as surprises—a one-way fall through the cracks in the floors of a Tenderloin tenement; at one point Scott runs from a mammoth phonograph needle at a DJ'd house party. There's a mano a bitty mano fight atop a speeding toy train, and an ultimate journey deep into the heart of matter, featuring psychedelic chrome doodads, which pop out of the ether in 3D.
And there are multiple in-jokes tying this film into the entire Marvel Studios roster. Hearing of the villain's plot, Scott says "I think our first task is to call The Avengers!" (Sensible, yet Pym declines.) When one of his pet ants is killed, Scott threatens the villain with a wee fist: "You're going to regret this!" This movie about shrinkage has a nice sense of proportion.
PG-13; 117 Min.