Movies
Review: 'Better Caul Saul'
Season four of the AMC prequel to 'Breaking Bad' puts a modern spin on noir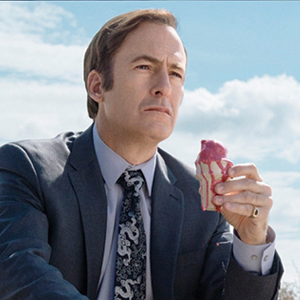 Born Jimmy McGill, he was a short-con artist and petty criminal who got a quick degree at a South Pacific law school. As "Saul Goodman" ("It's all good, man!") he became the kind of lawyer that makes other lawyers shudder, recruiting clients with billboards, TV commercials and an inflatable Statue of Liberty on the roof of his office.
Now, McGill is cowering in black and white angst under the name Gene Tacovic, managing a Cinnabon at an Omaha mall. Under any name, he's a person of interest to the feds and the Aryan Brotherhood.
As the fourth season of Better Call Saul begins, Jimmy keels over from the anxiety induced by the kind of film noir state of panic described by Kirk Douglas in Out of the Past (1947): "You won't be able to answer a phone or open a door without thinking, 'This is it.'" In flashbacks, the once and future lawyer looks for temp grifts, such as improving a dying cell phone store's business by emphasizing the burner phones on sale.
Every episode seems like a calling card film for some aspiring director—the cinematography and the art direction are labored-over in a way that's rare in the movies now. The camera burrows into surfaces, with an unusually angled POV from inside a paper shredder, or from within the tube of a dripping intravenous line. In this prequel to Breaking Bad, the craft in the visuals show, but the anxiety behind that craft doesn't.
There's a sense of room and time in every episode. The harsh blues of the skies and the gold and iodine nightscapes are part of the show's appeal: The series' various directors have the advantage of shooting in a place where Route 66 still looks like Route 66. They find Ed Ruscha-style low angles on a colossal gas station. They also honor a lush old cliche of noir—car tires splashing neon-filled puddles in a parking lot.
And, since the malign Walter White hasn't yet entered the picture, this also has time to study the other characters who were going to wish they never met Jimmy. This new season emphasizes the betrayal of the Rhea Seehorn character Kim Wexler, Jimmy's sometimes law partner and lover. Whatever causes their ultimate separation, this will be Jimmy's worst self-inflicted loss. Michael McKean of This is Spinal Tap excels as elder brother Chuck, a renowned and hugely pompous lawyer certain that his little brother is a career crook.
As usual, there's the grim authority of the former Philadelphia cop and current enforcer Mike Ehrmantraut (the death's-headed Jonathan Banks). In this season, Banks gets to be the straight man during a scene everyone's wanted to see—the auditioning of contractors to construct a gigantic subterranean crime lab.
Saul also gets a chance to fill in the back story of Gus Fring (Giancarlo Esposito) a drug tycoon hiding politely in plain sight as a polyester-clad fast food business entrepreneur. The show has a particular trick of making Fring's gold spectacles the first thing you see when he enters from the shadows. It may be a borrowing from the way Raymond Burr stepped out of the gloom in Rear Window (1954), the light first catching the glitter of his glasses before his face was revealed.
The camera work is lapidary, but the show has a certain realism: it's the first show to emphasize how long it takes to recover from a beating, a car crash or a bad gunshot wound. (These two series are rooted in sickness and hospital bills.) Anyone who sat through the 62 episodes of Breaking Bad knows where these characters are headed. But the strange appeal of film noir includes a sense of predestined doom—so many of the old black-and-white films started with a spot of narration describing an already sealed fate.
Starring in this story of moral corrosion in a hot climate, Bob Odenkirk emerges from comedy the same way that Bryan Cranston did in Breaking Bad. Goodman is a protagonist for our times, where bullshit has become high art. His hustles and dodges prove something. Questions that seemed once to mean so much to filmmakers, about whether a character is good or evil, are actually immaterial compared to a more important matter: whether a character is competent or inept.
Better Call Saul
Season 4
Amazon Prime and AMC
Now streaming