Movies
'Big Eyes'
Director Tim Burton continues his love affair with large, hollow peepers with 'Big Eyes'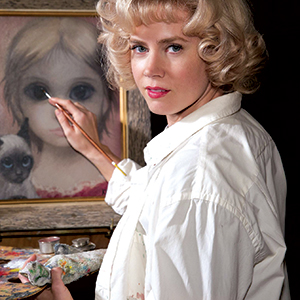 You can't fight cute. That much is clear in Tim Burton's mid-1960s comedy, Big Eyes—which follows the reign of the highly marketable art of Walter and Margaret Keane.
For a few years the pair were among the most famous artists in the world. Millionaires and movie stars lined up to purchase paintings by the Keanes, who specialized in figures of children, mostly girls, with vastly oversized, pleading eyes—great black vacuums, in which glowed gibbous-moon crescents of gold. Burton has a valuable collection of these waif paintings. God knows he ought to honor the Keanes, since he made a fortune off of his own hollow-eyed rejects: Edward Scissorhands and Sally from The Nightmare Before Christmas, to name a few.
The film's sly script, by Scott Alexander and Larry Karaszewski (Ed Wood), tells a tale of abuse and fraud, comparable to Fritz Lang's Scarlet Street. But the film withholds judgment on the quality of the art. Big Eyes is mostly a comedy of the endless quarrel between body and soul.
Margaret (Amy Adams at her frailest and prettiest) is a pure, young single mother who deludes herself for comfort's sake. She's picked up at an al-fresco exhibition in Washington Square, in San Francisco's North Beach, and becomes the victim of an artistic shyster—the poseur, Walter Keane, played by our reigning movie swine, Christoph Waltz.
Insisting that "lady art" doesn't sell, Walter takes over the merchandizing of Margaret's work. Later, he poses as the artist responsible. Poor Margaret ends up enslaved in the attic of her flat, cranking out paintings of big-eyed kids as if they were SOS messages. Meanwhile, the brash Walter takes the all the credit and figuratively paints the town.
What makes this a peculiarly holidayish movie is the same thing that makes A Christmas Carol popular: comeuppance. Big Eyes has an old-time movie's faith that the truth will out. As in the old screwball comedies, help comes from a self-satisfied but dogged press: Danny Huston as San Francisco Examiner columnist James Bacon, and Terence Stamp as New York art critic John Canaday.
On a local level, Big Eyes cherishes and lampoons San Francisco. It makes loving recreation of the SF Broadway nightclubs where Walter Keane hawked the paintings and hooked his customers. But it also speaks of how The City's thick veneer of sophistication dissolves under a cascade of kitsch. Aside from the local interest, the film is electric with color—during the dark parts of the year, you long for a movie with a lot of daylight in it. Big Eyes is lavish with saturated hues, from Kodachromish Hawaiian vistas to an A-frame tiki mansion in Woodside (if Sunset magazine had run centerfolds, this place would have been one). The Keanes' heartache-ridden dream house is illuminated by the Matisse-blue refractions from a shimmering swimming pool. When Margaret Keane is in distress in a supermarket, her hallucinations are iridescent as Christmas lights.
In cinema, the past is usually envisioned as shadowy or softly lit, as in Robert Altman's pre-flashed images. Nostalgia artist that he is, Tim Burton insists that the past was more colorful than the present. Big Eyes makes an uneasy transition from social comedy to courtroom farce in the end. But the account of how a trend blossoms and dies has the bones of a classic—Big Eyes may ultimately be Burton's most long-lived film.
The Keanes' work has taken a satirical beating over the years—"Ooh, it's Keane, it's pure Keane," croons Diane Keaton in Sleeper, as a culture vulture of the future exclaiming over a friend's grim painting. Keaton's character, a rich, artsy poseur, is praising a painting (an ugly one) that one of her rich, artsy poseur friends has brought to her party. One particular highlight of Keane culture was artist Paul Mavrides' revamp of that Chairman Mao poster every parlor revolutionary had in the 1970s. Mavrides painted The Great Helmsman on black velvet with big spaniel eyes. The image later was reprinted in Anarchy Comics #2.
Mavrides noted, "One of the sons of Deng Xiaoping visited my studio and saw this painting— and found it hilarious. Sadly, despite his enjoyment of the artÉaccording to the translator, anywayÉI was unable to broker a deal to sell 28 million copies of the work."
Had the Keanes conquered China, then? Mavrides replied, "Who can say what he was reacting to? O.G. Chinese Political Cult of Personality? Some distant awareness of Japanese manga comics style? He might have only been amused because something like that image might have been the last thing he expected to see in the United States. Or he could have been a big fan of the Keanes' work. I didn't dare ask him. I had the feeling that would have been considered impolite."
Also drawn to the suction of the big eyes was Adam Parfrey, someone I've known since my school days. These days Parfrey is a brave publisher of forbidden, beautifully decadent and otherwise eclectic material. With Cletus Nelson, Parfrey co-wrote Citizen Keane: The Big Lies Behind the Big Eyes, the definitive account of the rise and fall of the Big-Eyed Empire. Parfrey was the first to discover that essayist Tom Wolfe, snickering under a pseudonym, had written an intro to a monograph praising the relevance of the Keanes' work.
It began with a column Parfrey wrote some years ago for the San Diego Reader on Walter Keane. Keane was taking it one day at a time after the public disgrace depicted at the end of Big Eyes. Parfrey notes, "Walter had just turned 80 and had gone sober for a couple of years. Being an alcoholic for much of his life he considered sobriety a great achievement. Reproductions of the so-called Keane paintings were hanging in his small La Jolla bungalow.
"Walter's claim was that he could still paint the waifs, but he had a shoulder or arm injury, depending on the day he told the story. But he could move around just fine, and had no trouble shaking hands and wrapping his arm around my shoulder. That and many odd claims made me distrust much of what he had to say. His memoir said that DaVinci and Michelangelo spoke to Walter directly about inheriting their mad artistic genius."
As for Parfrey's opinions on the art itself, he says only this: "Margaret is a very nice lady and I'm happy for her new moment of success. The lies Walter told were so large it didn't really matter what I thought of the big eye art. Really, I saw the big eye stuff as being total camp, but after speaking with Margaret I learned that the art was totally intentional and not satirical in the least." As Big Eyes notes, Margaret Keane is still alive and running a gallery in Ghirardelli Square.
You could defend the painters of big eyes—Kees Van Dongen did them, and De Kooning after him. Burton's many fans have continued the bulbous-eyed work in alterna-neighborhood art galleries worldwide. Look, neighbor, into the cutting-edge window of that cutting-edge gallery. There, staring back at you: on canvas after canvas, figures with beach ball-sized eyes, all having a major sad from having witnessed too much, too soon.
Likely what made Keane art hit millions of fans right in the brisket was the way they stayed on message. They emphasized abandonment and trauma. Most of the badly used, staring urchins in these hundreds of paintings seemed to say "I'm starving to death" or "My parents left me here in this alley." It was futile to resist the load of guilt these paintings carried.
Big Eyes critiques the emperor's-new-clothes side of art appreciation. Waltz's lowlife Walter boasts of inspiring Warhol's mercenary ethics, the use of factory-style mechanical reproduction to issue the works en masse: "That fruit fly stole my act!" he exclaims.
Yet Burton's film is handmade weirdness, a brightly lit, carnivalesque comic-tragedy fascinated by the way those big eyes stared down a generation. Among other scientists, Stephen Jay Gould speculated that big eyes were a product of evolution, suggesting you could prove it by the way Mickey Mouse became a superstar once his eyeballs got bigger. People are hardwired to succumb to big eyes. And now those big, begging eyes are back, shaming us first into submission É and then into taking them home.
105 MIN., PG-13