Movies
'Black Mirror' & The 'Bash Bros.'
Netflix continues to crank out content—some of it hilarious, some of it horrifying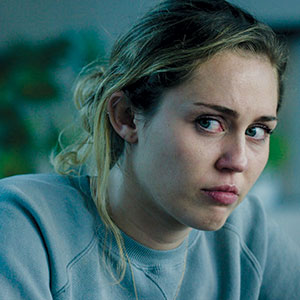 The ways of Netflix are hard for mortals to understand. Not just the mysterious nature of their ratings and the secret of how many people are watching, but the constant element of surprise. Take the no-comment drop of The Lonely Island's "visual poem," The Unauthorized Bash Brothers Experience. It's allegedly a video rap record done by baseball's Jose Canseco (Andy Samberg) and Mark McGwire (co-director Akiva Schaffer), heroes of the Oakland Athletics in the 1980s.
Naturally, the auteurs of SNL's "Dick in a Box" go straight for the crotch, with a sheaf of autotuned, shouted-out forced rhymes about shrunken junk and renal disease from anabolic steroids: "Kidney failure's just part of the game!"
The Berkeley-raised Samberg name-checks the highlife in Blackhawk and the lowlifes of Richmond's skeevy Hilltop Mall. It all bears an important moral (actual quote): "Wow, it sounds like being famous is really hard." And to give it more heft, the suite of songs are bolstered with Terence Mallick visions of a mystic tree of life and the towering dads who never gave the poor base-bros the approval they deserved.
Then, without preview or preamble, Netflix drops three episodes of Black Mirror, the kind of anthology show that proved the possibilities of television 60 years ago.
In "Rachel, Jack and Ashley, Too" we meet Rachel (Angourie Rice), a shy teen with a new friend—a pint-sized plastic robot of her musical idol, Ashley O. The toy is programmed to emit banal empowering slogans every 15 seconds. Her bass-playing, seething sister, Jack (Madison Davenport) despises the thing, seeing it as a tool of marketing forces trying to completely remove the human element from the creation of pop music.
It turns out the real Ashley O is also in rebellion; she's played by Miley Cyrus, demonstrating that she could have nailed the role of Ally in A Star is Born with ease. Some viewers' necks will ache from the whiplash turn from David Cronenberg into lighter Joe Dante territory. But there's too much keen satire here to resent the lack of a final twist.
"Striking Vipers" has The Falcon himself, Anthony Mackie, as Danny a restless husband invited by his studly buddy (Yahya Abdul-Maleen II) to play a new generation video resembling Mortal Kombat. In the nigh-future, Oculus-style specs are obsolete. Instead, there's the gadget that keeps turning up in episodes of Black Mirror: a marble-size thing you press to your temple, leaving your body slack and twitching on the couch with gray zombie eyes. During the game Danny starts noticing his pal's Sonya Blade-like avatar (Pom Klementieff, the liquid-eyed Mantis in the Marvel Cinematic Universe). In fact, he starts noticing her too much... Nicole Beharie is very lively, bringing a lot of allure and spine to the role of Danny's angry, spurned wife.
James Haley's "Smithereen" is the one of the three episodes that's truly about a matter of life and death. It showcases Andrew Scott, who portrayed Professor James Moriarity opposite Benedict Cumberbatch's Sherlock Holmes. Scott is capable of emoting great kindness and great pathology like no one since Anthony Hopkins. His Chris, a Londoner, carries out a bungled kidnapping. He'll kill his hostage unless his demand is met: to speak on the phone to the head of Twitter... excuse please, not Twitter, but the "social whatsit" company, Smithereen. In Los Gatos, the Smithereen execs use Chris' social media profile to try to coax him to give up, even as the police sharpshooters gather. It all leads to a pair of matching painful confessions. Also keen: the use of "I Can't Take My Eyes Off of You" as an anthem to those enmeshed in social media.
Incidentally, Black Mirror has one particular bit of luck, which may be due to budget. The show shoots in South Africa. This terrain resembles the purported Southern California settings, without actually being the Southland landscapes we've seen in a million movies. This adds a sense of unease. The cities are sprawling and unfamiliar. The mountains aren't where they should be. Ashley O's Malibu compound is, in real life, a luxury estate in South Africa— in other words, visibly ready to turn into a fortress against intruders. That sense of dislocation and danger is one more reason that no one does the year 2025 like Black Mirror.
The show's creator Charlie Brooker is not a Luddite scold, but rather a man closer to Harlan Ellison, a worried speculative fiction writer seeking the right response to the technology waiting for us.
The Unauthorized Bash Brothers Experience
Black Mirror Season 5
Now Streaming
Netflix