Movies
Review: 'Blindspotting'
Another film continues summer trend of highlighting inequality in Oakland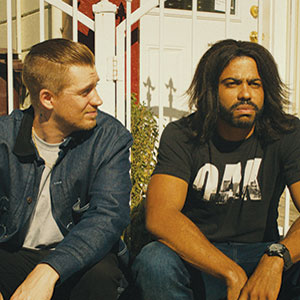 After Boots Riley's phantasmagoric film Sorry to Bother You opened earlier this month, the spotlight shines on Oakland for a second time. Oakland natives Rafael Casal (as Miles) and Daveed Diggs (as Collin) co-star in Blindspotting, Carlos López Estrada's feature film debut.
Casal and Diggs also co-wrote the script, a buddy movie that fictionalizes the details of their lifelong friendship and pays homage to their real-life hometown. But the city that Miles and Collin grew up in is changing. From their perspective, Oakland's gentrifying into an unrecognizable playground for gangs of mostly white, twentysomething techies with seemingly unlimited disposable income. They're buying up and refurbishing formerly black-owned properties while drinking expensive macchiatos and $10 bottles of green juice.
Miles and Collin work for a moving company, driving a truck together around town, loading and unloading boxes. The only other job we see Collin having was in a flashback as a bouncer in a club. They don't have access—either by choice or lack thereof—to the economic boom that's reshaping the city, and they don't like what they see.
Collin has recently been released from jail, though we don't learn of his crime until deep into the story. When the film opens, he's living in a halfway house, and his one-year term of probation frames both ends of the movie. Reverting to old, bad habits isn't just a temptation for him; it's built into the DNA of his friendship with Miles. The crucial difference between them is, as his ex-girlfriend Val (Janina Gavankar) points out, Miles is white and Collin is black.
The film's break-out performance belongs to Casal. Miles' emotions carry an electric charge that he can't control, and he pairs them with high-voltage turns of phrase. One minute he's volatile, enraged, frenetically honking the truck's horn at a guy unloading groceries; the next he's tender and funny with his girlfriend and their son. His complementary opposite is the more recessive Collin. As the voice of reason and de facto conscience, it's Val again who has to remind Collin that when Miles incites him to misbehave, the police aren't going to arrest the white guy first. Miles gets an adrenaline rush from confrontation. He takes any opportunity he can get to express his personal dissatisfactions and general outrage by punching someone in the jaw. Diggs gives Collin a restless spirit, but he's so caught up in Miles' charisma that he doesn't seem to function without his best friend's magnetic energy pulling him forward, sideways or astray.
Collin's life is complicated when he witnesses a white cop gun down a black man. He can't report what he's seen because he was out past the halfway house curfew. He's haunted by guilt for not being able to come forward but he's also traumatized by the experience. As a black man, he understands that it could have just as easily been him. That particular tension gets underlined in every scene in which Miles and Collin appear together in public. When Miles confronts a wealthy millennial at a mellow house party, he doesn't go after him for an imagined slight. He's angry that the people of Oakland, their culture and way of life are in the process of being displaced.
Collin may read him the riot act for behaving like a maniac, but Miles suffers no consequences for beating an innocent, if annoying, man to a bloody pulp. If Blindspotting isn't condoning his behavior, it certainly doesn't suggest that Miles needs to find redemption or change his behavior. It's one of many conflicting messages in the movie.
Collin, too, is involved in a bar fight with yet another mustachioed white bro—that's what sent him to prison. Is the beating that Miles gets away with then compensatory for the one Collin has to do jail time for? Or is it meant to emphasize the fact that white men in America get away with things that black men are routinely imprisoned and punished for? In either case, the film suggests that using violence against murderous cops and rich guys in skinny jeans isn't the best way of defending what remains of their diminishing territory.
Blindspotting
95 Mins; R
Opens Jul 20