Movies
Review: 'Boss Baby'
Cookies are for closers in funny, family-friendly feature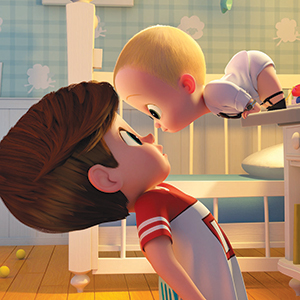 Strangely, having human characters in a full-length animated 3D cartoon makes the ambience more cartoonish. Zootopia turned the animals human, whereas The Boss Baby takes place in cartoonland. It's vibrantly colorful, delightfully odd and seriously under the influence of Looney Tunes: Chuck Jones' Walter Mitty pastiche "From A to ZZZ" (1954) and Bob Clampett's "Baby Bottleneck" (1946) ought to open for this.
The daydreaming 7 ½ year old Timothy is an only child in a suburban paradise. Timothy's happiness is shattered by the arrival of a new baby brother who is a sort of goblin: an executive from Baby Corp., a suit-clad, attache case-holding hard-charger. Voiced by Alec Baldwin, this adult in baby disguise is there to keep an eye on a potentially calamitous development involving rivals. He's prepared to tolerate Timothy as long as the boy minds his own business and lets him get all the parental attention. Parental love is a zero-sum game. "We can share..." Timothy says. The baby cuts him off: "You obviously never went to business school."
How Trump is this? The golden potty in the Boss Baby's office rang a bell, but I'm not feeling the parallels. Bald execs who act like vicious, bawling crybabies preceded the reign of Trump and will presumably survive him. It seems more Baldwin than Trump here: "Cookies are for closers!" the diapered tyrant snarls, making this the only family movie this year to have a reference to David Mamet.
Director Tom McGrath (Madagascar) seems liberated as never before to run with the various modes of this animation, from breakneck kiddie-car chases to a snickering face in a mushroom cloud. The color is wild, with fauvist dream sequences of the Congolese jungle; flat, fun-house ultra-violet nightmares and a finale in Vegas. McGrath never seemed this macabre before. Only during a fraying third act (complete with missile countdown and catwalk fight) does the invention run thin. Baldwin's amusing weaselry and manipulation stays fresh; meanwhile, the jumbo, Christmas-ornament-sized eyes and exposed butts lull the kids.
The Boss Baby
PG, 98 Mins.
Valleywide