Movies
CAAMFEST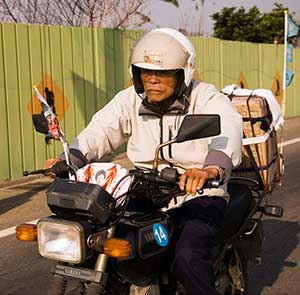 The centerfor Asian-American Media's CAAMfest 2013 is a mini-fest of 11 feature and short films from overseas and elsewhere; the weekend-long event includes receptions and guest appearances. Go Grandriders is making its appearance in Downtown San Jose, as well as opening for a week's run Aug. 16 at the BlueLight in Cupertino. It's the true story of elders on scooters circumnavigating their home island on a 700-mile long, two-week journey.
Even in a Confucian culture where elders aren't exiled to the Sunbelt to "dress like toddlers and implode with rage," in Adam Gopnick's phrase, it's a hard slog for these old men and women. They fight blood pressure and vertigo, and the pangs of widowerhood; some of the tributes to dead spouses mist the eyes. And then there's the matter of near-lethal pride among these motorcyclists. Among the riders is a frail, elderly military man who seems to be daring death to stop him from continuing. On hand for this film's appearance at CAAM: 10 of the grandriders, who will be doing a San Francisco to Los Angeles run after their visit.
Opening night is Will You Still Love Me Tomorrow?, a Korean crowd-pleaser about the past of a gay optometrist interrupting his current staid married life; the after-reception ($35 for ticket and party) at the San Jose Museum of Art features hors d'oeuvres and drinks, with the ever-surprising, emotionally raw yet pictorially serene work of Oakland's own Hung Liu in the background.
Among the other offerings: Earth may be doomed, but Best Friends Forever is doomed to be lumped in as the gal-pal version of This Is the End—its two rising stars (Vera Miao and Brea Grant) stuck in the middle of nowhere after the apocalypse. Uke-mania is still at fevered pitch, so the time was right for a celebratory profile of the Yngwie Malmsteen of the uke: the documentary Jake Shimabukuro: Life on Four Strings at the Japanese American Museum in J-town. Stateless is about the plight of 2,000 stateless refugees stuck in the Philippines. Let's Be Out, the Sun is Shining chronicles heartbreak among the young and artistic in Bushwick—director Bornila Chatterjee will be in attendance.
CAAMFEST
Aug. 16-18
Various Downtown San Jose venues