Movies
Review: 'Call Me by Your Name'
New film by Luca Guadagnino film is sometimes evocative, sometimes so-so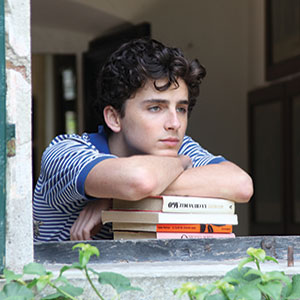 Manohla Dargis of The New York Times says that "you don't just watch Luca Guadagnino's movies, you swoon into them." There was much swoonage to be had in his I Am Love, but his newest—Call Me by Your Name—invites not a swoon, but perhaps a pitch forward into a doze.
Erotic or sclerotic, it focuses on two American men in a highly unequal relationship in Italy's Lombardy region in the summer of 1983. Young Elio (Timothée Chalamet) becomes fascinated with a handsome 24-year old American student named Oliver (Armie Hammer, old for the part). Oliver has come to stay in the family's villa for six weeks to assist Elio's archeologist father (Michael Stuhlbarg). Throughout this summer's yearning, Elio also has a thing going on with a friend of the family Marzia (Esther Garrel), a lovely Parisian girl.
Hammer is tremendously built, and watching him stride coolly through this film seems to prove F. Scott Fitzgerald's speculations that rich people just seem to be less affected by the heat than the rest of us. His aloofness—he's almost rude—compliments Elio's own personality. Elio is such a good pianist that his facility even bores himself. He has all the ruthlessness of a 17-year old, and twice the callow gabble. Showing off a grove with a swimming hole, he blurts, "I can't tell you the number of books I've read here."
Working from André Aciman's novel, scriptwriter James Ivory (as in Merchant-Ivory) uses ancient art as a vision of homoeroticism unfrosted by Christianity. This is the kind of idea that gets politely described as so old that it's new. It's unimportant that the budding romance is illegal in the USA. It's more important that Oliver's own heartless teasing of Elio isn't judged by familial onlookers. Oliver strokes the boy with one hand and pushes him away with the other, leaving Elio notes that say things like "Grow up. I'll see you at midnight."
Hammer looks like a late stage recurrence of the Josh Hartnett Crisis; hot thoughts about Hammer, as Hartnett, seem as unfeasible as masturbating to the J. Crew catalogue. Call Me by Your Name has its acute moments, risky ones, as in Elio's inhaling the fragrance of Oliver's used bathing suit, or the boy's sudden intense lust for a peach, in the American Pie sense.
Waiting for Oliver to arrive, Elio lies in the position all adolescents have assumed at one point or another. It's that "do with me what you will" pose, shirtless and stiff-bodied: like planking, only on your back. Also evocative of young love is the self-hatred, and the words that come out like toads when you want them to come out like honey.
This arrogance cuts both ways. When Elio explains there was once a terrible World War I battle in the vicinity, Oliver goes curt: "Is there anything you don't know," he says, patronizingly. Every bright kid has heard that phrase or something like it, but it's bitter to hear it from a scholar. What exactly is Oliver interested in, beyond toying with Elio?
Call Me by Your Name concludes with a much-praised monologue about the difference between old and young love, claiming that the aged are no longer capable of the kind of all-consuming love felt in youth. Stuhlbarg, outfitted with a badger beard that makes him look rabbinical, delivers the speech with every ounce of his humanity. And not a minute of it can be believed. It's no favor to his love-scalded son, and it's hardly true. Age does what it can to put the brakes on the folly of romantic love, but of course, it never stops, all the way to the grave.
Luca Guadagnino's latest film owed us some perceptions of the sort that informed Certified Copy, as both love story and travelogue. He does show us Italy, the townscapes of Crema, the country roads, stunning waterfalls, the villa with its rock-lined swimming pool and sun-dappled creeks—this is where the swoon comes in. Do people love the movie, or do they love the real estate?
Call Me by Your Name
R; 132 Mins.
CinéArts: Santana Row & Palo Alto