Movies
Review: 'Carol'
'Carol' features powerful acting and strong costumes, but is a 'cold fish of a film.'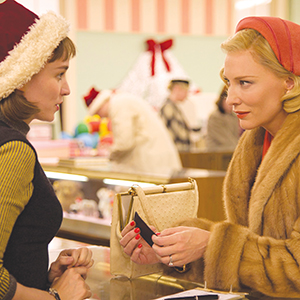 The title of Patricia Highsmith's 1952 novel, The Price of Salt, contains a dead idiom—the price of salt was something people supposedly chatted about when they weren't talking seriously. "Girl talk," as they would have said once. The film adaptation by Todd Haynes—his first feature film in 8 years—is titled Carol.
This single-gender romance, which almost hypnotizes, emulates the 1950s Hollywood melodrama of throbbing hearts, stiff jaws and immaculate wardrobes. But it's missing something. Salt?
Carol (Cate Blanchett) is a fur-coated, upper-class housewife from New Jersey, who meets the woman that will change her life across the counter at the toy shop at Frankenberg's department store. Therese (Rooney Mara) is a lonely, shy and self-effacing shopgirl, with a taste for photography. The two have a lunch that leads to deeper things.
One of the problems facing this liaison is that Carol isn't quite single—she's in the middle of divorce and custody hearings with her husband, Harge (Kyle Chandler does the Van Heflin role). The name is short for Hargess, but it would seem to be a combination of "harsh" and "large." Harge's own side of the triangle doesn't add tension. He's a pushy, sullen WASP—a life-ruiner who wants to grab Carol's daughter, Rindy.
When the ladies make a decision to flee for a time—to just get in the car and drive—it precipitates both the slow-simmering affair and the crisis that endangers it. The couple don't pay sufficient attention to a travelling salesman who tries to befriend them during their winter trip through Iowa's most nowhere small towns. This peddler calls himself "Tommy Tucker" (Cory Michael Smith, who plays the deranged Edward "The Riddler" Nygma on "Gotham").
The last time Haynes dove for the wreckage of '50s cinema in a film, in 1992's Far From Heaven, I wrote "it sure gives you a turn seeing the age you were born into treated as if it were as far away as Elizabethan England." Twenty years later, Haynes makes this near past seem even more quaint.
It may just be that Blanchett—cast in a mad housewife role that Joan Crawford would have done—is so scarlet of mouth, so full of force and stride, that she breaks the frame. It's hard to believe this intimidating lady as a woman who can be shamed. For comparison, Carol's former lover (Sarah Paulson) is far more easygoing about her sexuality. Carol has Crawford-like lines: "Just when you think it can't get any worse, you run out of cigarettes."
But Blanchett doesn't have the Crawford frailty, evinced in, say, Autumn Leaves (1956). Mara is such a quiet little blank, in her lonely garret. At one point, Therese denounces herself as a woman who says "yes" to everything—so Carol has to do the thinking for both of them, in the Casablanca sense.
A story of lesbians that doesn't even mention that word is carried out with Haynes' attention to the formality of old movies, and costumes by Sandy Powell—she also did the wardrobe for his richer Far From Heaven. Yet Carol seems damp with the winter weather. Even as it presumes we're believers in the social justice angle of the melodrama, it also presumes an award-season love of Christmas. ("Silver Bells" is on the soundtrack—that would have been a fresh song back then, having made its debut in a 1951 film.) For budgetary reasons, Haynes had to film in Cincinnati's old town, making for a dark and depopulated New York.
You want to treat a movie this well-intentioned with respect, and love it for how thick it is with romantic cigarette smoke and with simmering flirtation—Blanchett has a lethal, liquefying glance. It has moments that get you in the throat, as when, after a troubled date, Therese weeps to herself on the train, doubled by her reflection on the dark window. But it's a cold fish of a film, beautiful but taxing. Just as the actors are on their marks for every scene, the audience always knows where it stands.
Carol
R; 118 Mins.
CinéArts, Palo Alto