Movies
Review: 'Cars 3 '
Pixar seems to be painting by numbers and taking things personally on third auto flick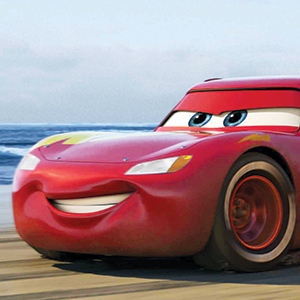 Remember the line in the Coen Brothers' The Hudsucker Proxy: "You know...for the kids." Pixar's Cars franchise is definitely para los niños. After the spy movie satire in Cars 2, six years ago, they're back to letting the characters drive the narrative, instead of just watching the characters drive.
Candy apple red sports car Lightning McQueen (voiced by Owen Wilson) has crashed and lost, and he's now sulking in his garage in Radiator Springs—wearing a dull coat of primer paint, as if he's hanging out in his underwear. He's mocked on television as a has been, denounced by statistical analyst Natalie Certain (Kerry Washington) who flaunts metrics to prove that Lightning is finished compared to "the next generation of high-tech racers." The arrogant new favorite, Jackson Storm (Armie Hammer) calls out "You had a good run. Enjoy your retirement."
Lightning seems to be facing his residual years selling endorsements for mudflaps. At his new office, the trainer Cruz Ramirez (Cristela Alonzo) pushes Lightning to overcome his post-crash nerves. Her buried ambitions to be a race car emerge during their time together. Lightning and Cruz drive out to explore the Southern dirt-tracks where Doc Hudson (Paul Newman) once raced; it gives the background animators the chance to concoct a handsome new landscape out of the Smoky Mountains. Flashbacks to the first Cars show how much more sophisticated the animators have become in rendering, design and color in just ten years.
Newman's voice outtakes from the first Cars (2006) are recycled to amp up the theme of obsolescence: "There was a lot left in me... I never got the chance to show 'em." One seriously hopes this wasn't Newman's feeling at the end of his career, but it's fair to speculate that it's how the aging Pixar management feels about the bitterly competitive realm of animation that they're in. No doubt there are plenty of real life Natalie Certains reading them the numbers, showing them the kind of movies they should be doing.
Children have a lot of anxieties, but being made old, useless and surpassed by the new generation might not quite be one of them. Will this theme be as interesting to them as the shiny talking cars with their big glassy eyes speeding around the track, as in the rote final 20 minutes? It would seem that even in the most impersonal of Pixar's franchises, there is something personal.
Cars 3
G, 109 Mins.
Valleywide