Movies
Review: 'Charlie Says'
Mary Harron takes intrguing, feminist slant on the Manson Family saga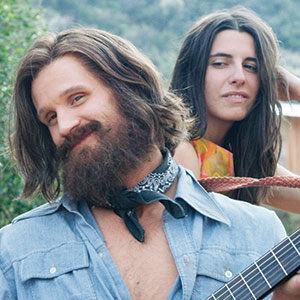 Here comes the 50th anniversary of the great Los Angeles creepy-crawl. It's soon to be celebrated—let's face it, he'll celebrate it—by Quentin Tarantino in his Once Upon a Time in Hollywood. Coming first to theaters is Charlie Says, Mary Harron's far more low-key account of three women involved in the Tate-LaBianca murders.
Harron's film gets the milieu, the angle and the details right. To properly tell the story of the Manson gang, one needs a certain fellow feeling for the hippies. Without compassion for a life of flamboyant laziness, the Mansons will seem incomprehensible, some unique Southern California plague like pet-eating coyotes, brushfires and the Santa Ana winds.
Harron's sympathy for devils was previously seen in her much-praised adaptation of American Psycho (2000) and I Shot Andy Warhol (1996) about the polemicist and street-lunatic Valerie Solanas. Charlie Says is more thoughtful work, less studiously hip than its predecessors.
Essential to Charlie Says' quality is Harron's refusal to make a monster out of Manson. He's well played by ex-Doctor Who star Matt Smith, whose foxy face and intimidating forehead are barely recognizable under all the hair. Smith's Manson is capable of easy-going charm and odd playfulness, though he's also a deceiver, a drill sergeant, a poisonous pedagogue. Charlie Says clears up the dirt-common jailbird attitudes Manson shrouded in a cloud of incense.
Working from a script by Guinevere Turner (Go Fish), Harron builds this story the simplest way. It shuttles back and forth between the lead-up to the murders and several years later, when three women of the imprisoned family are in an isolation ward in prison. It's "inspired" by two books about the gang, Ed Sanders' The Family (the musician and poet Sanders is credited as executive producer) as well as Karlene Faith's The Long Prison Journey of Leslie van Houten: Life Beyond the Cult. The late Faith (played by Merritt Wever), a UC Santa Cruz PhD in anthropology, was an activist for prisoner's rights who taught classes to Susan Atkins (Marianne Rendon), Patricia Krenwinkel (Sosie Bacon) and Leslie van Houten (Hannah Murray).
At the beginning of Charlie Says, the three women are brainwashed and bliss-whipped. They quote Manson adoringly as if he were Chairman Mao ("Charlie saysÉ" begins almost every one of their sentences). So Faith acts as both consciousness-raiser and cult deprogrammer.
Van Houten, whom Manson rechristened "Lulu," is our entry into the gang. She's a soft, drifting girl who could get pulled in by anyone who seemed sure of himself. Charlie Says insists there was a time when it was good to be a Mansonette, when life was a long stoned orgy in Topanga Canyon. They survive through a mix of panhandling, trading sexual favors and dumpster diving. Charlie, building the gang of girls up with praise, is just as capable of lashing out, informing Lulu she couldn't understand him with her "tiny female brain".
Charlie Says finds some evil humor in Manson. Here he was—Jesus returned and the fifth horseman of the apocalypse—fretting over the approval of the late Doris Day's record-producing son Terry Melcher (Bryan Adrian), fetching himself a Buffalo Bill suit and setting up a pathetic topless go-go girl show to impress Melcher. It's an irony of Los Angeles history that one of the most fearful men who ever dwelled there was, ultimately, just one more thwarted performer in a city full of them.
It's more than just the needle drops of the angst-loaded psychedelic band Love that make this film evocative; photographer Crille Forsberg captures the fresh late-'60s light in those hills, as well as the blue sad days in prison. The adroit casting of Grace van Dien as Sharon Tate sets up the opposition between the scrounging Family and the kind of world that gets seen during a Golden Globes telecast. The horror of this us-vs.-them attitude comes out in the massacres. Charlie Says doesn't roll in the gore—it just sums it up in a few sharp scenes, as when Rosemary LaBianca (Jackie Joyner) fends off a knife-wielder with a bedroom lamp, like a duelist parrying a thrust.
Harron is compassionate enough to envision an alternate ending to Van Houten's path. If the Mansons were indeed werewolves, as they were called, they shared the werewolves' tragedy of coming to as humans after the carnage they had caused.
Charlie Says
R; 104 Mins.
3Below Theaters & Lounge
3belowtheaters.com