Movies
A Fragmented Cinequest
This year's film fest suffered from decentralization, but showed promise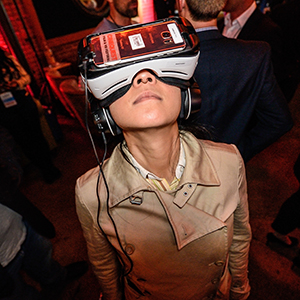 Cinequest closed Sunday with the audience awards, and even the Cinequest OD'd have to feel a bit sad to see the crowds go. The well-deserved winner of the best narrative feature award was Roland Vranik's Ken Loach-like The Citizen, starring Dr. Cake-Bali Marcelo as Wilson, an African refugee in Budapest. The amateur actor played a security guard pinioned between the requirements of his new government and his duty to a helpless and homeless Iranian mom (Arghavan Shekari). It's a warm drama, with Agnes Mahr outstanding as Wilson's native-born Hungarian lover.
The parties were certainly lively, but the 27th annual Cinequest suffered from decentralization. Given the absence of that old behemoth, Camera 12, the festival was spread across three locations: downtown San Jose, Santana Row and Redwood City. People come from around the world to participate in Cinequest. They cross oceans, they traverse continents... but just try to get them to journey 25 miles up the Peninsula or the 15-minute drive from the California Theatre to Winchester and Stevens Creek. One only hopes Elon Musk gets that hyperloop up and running soon.
I sampled the virtual reality component with "Under the Net" at the Continental Bar; the eight-minute short was about the great need for malaria-fighting mosquito nets in Africa. Viewers bungee in on the red dirt and tents of the Nyarugusu camp in Tanzania. For something important, one copes with the uncanny feeling of being blinkered and headphoned, spinning around in a public place.
The double-billed maverick spirit award ceremony, featuring Jane Lynch and Fred Armisen, was one of the liveliest afternoons. Lynch noted that the newest Christopher Guest-gang movie for Netflix, Mascots, may be the last. (Then again, Guest swears off movie making after every film). At last I got to ask Lynch if she was fond of an actress she resembles, Eve Arden: "Oh, my God, yes. The queen of the dry take. She's in Grease, of course. Her character is named Miss Lynch!" Upcoming for Jane Lynch is Manifesto, the story of the Unabomber, in which she plays the late U.S. Attorney General Janet Reno.
Exposure to undying Hillary Clinton hatred online made me wonder playing Reno was a risky part. "I don't worry," Lynch says. "I admire her." As always, Cinequest is a real cafeteria fest: you could have cake-eating escapism or social commitment, or a bit of half-and-half.