Movies
The 'Quest Continues
The Cinequest Film & Creativity Festival returns this March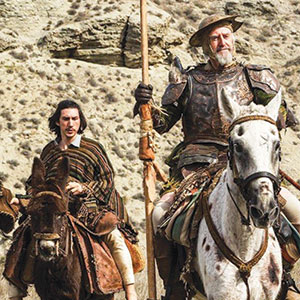 Expect the unexpected—"in a good way," Cinequest co-founder Halfdan Hussey says of this year's installment of the annual Silicon Valley film festival. The idea behind this year's theme, "The Unexpected," is that the joys of Cinequest (and films in general) come as of surprises.
Over the course of two hectic weeks—from Mar 5-17—Cinequest will host a multitude of parties, stage live performances, fly out big stars and screen hundreds motion pictures. The fest honors everything from the century-old roots of cinema, with a double-bill of Buster Keaton films at the California Theater, to the latest in streaming TV and virtual and augmented reality.
There are 56 countries represented at this year's festival. And literally 100 female directors are featured.
One of these is Nandita Das (Fire). Her opening night feature is Manto, a biopic about the Kashmiri novelist S. H. Manto, a writer tried for obscenity six times. A mujahir (refugee) after the 1947 Partition, this hard-drinking disciple of Hugo and Gorky died early but ended up honored on a Pakistani postage stamp.
The Man Who Killed Don Quixote is the closing night feature; it's possible that director Terry Gilliam will come to meet fans of 12 Monkeys, Time Bandits and Brazil... This Monty Python vet has been working for decades on an ill-starred adaptation of the Cervantes novel. (Admittedly, Orson Welles couldn't finish his version, either, though Jess Franco's weaving of the scraps left behind by Welles played at a previous Cinequest, with Oja Kodar of The Other Side of the Wind in attendance.)
Gilliam's adaptation is a meta-version, with Jonathan Pryce as a British squire who cracks and believes himself to be the medieval knight—finding his Sancho Panza in Oscar nominee Adam Driver.
This year marks the bicentennial of the Peterloo Massacre, a turning point in British history. The story of working class revolt is told by the remarkable Mike Leigh (Secrets and Lies, High Hopes and Mr. Turner). Peterloo concerns the events leading up to a British cavalry charge right into a mass of unarmed protesting civilians. It was an atrocity the poet Shelley damned with verse too politically dangerous to publish in his lifetime: "Rise like lions after slumber, in unvanquishable number... ye are many, they are few!"
Zhang Yimou's Shadow is a visually elegant martial arts movie with a similar subject to Kurosawa's Kagemusha—about a physically infirm general's double during the Three Kingdoms era in China.
The Kaiser Permanente Thrive Award winner is Clownvets: the true story of Dr. Hunter "Patch" Adams (as opposed to the ghastly Robin Williams vehicle based on Adams' life). Both physician and clown, Adams' work with PTSD sufferers is explored here.
There are four local full-length films and 15 local shorts offered. These include Liza Meak and Kathryn Basiji's Edge of Success, about the rash of suicides at the ultra-competitive Palo Alto High School. Pari Mathur's Lucky 50 is the follow-up to the Cupertino-raised director's Family Party. Circles is about a high school counselor who escaped hurricane Katrina to start a new life in Oakland, only to find the same old injustice waiting for him on the West Coast.
The 32 virtual reality offerings include Crow: The Legend, done by animators who worked on Madagascar with voices by John Legend and Oprah Winfrey. Auggie, starring the distinguished character actor Richard Kind (A Serious Man, et al) concerns a man who falls in love with an electronic phantom. Kind will be attending.
Jeff Daniels' current run as Atticus Finch on Broadway will keep him out of San Jose, but this star of The West Wing turns up at Cinequest in a new independent film Guest Artist.
Among the surprises, Director of Programming Mike Rabehl mentions Shaina Feinberg's comedy, Senior Escort Service, about a girl handling grief in a most unorthodox manner. "It's one of the most original films we have ever had at Cinequest," Rabehl claims.
This year's schedule reaffirms Cinequest's commitment to social justice; father and son Martin Sheen (Princess of the Row) and Emilio Estevez (The Public) bring two seperate films on the problem of homelessness. Behind the Bulletdocuments a quartet of stories about people who accidentally, or on purpose, perpetrated gun violence.
Additional guests and events will be announced during the coming month; watch this space for more information.
Cinequest Film & Creativity Festival
Mar 5-17
San Jose & Redwood City
cinequest.org