Movies
Cinequest Closes with
'Brothers in Arms'
New documentary commemorates Oliver Stone's iconic Vietnam film, 'Platoon'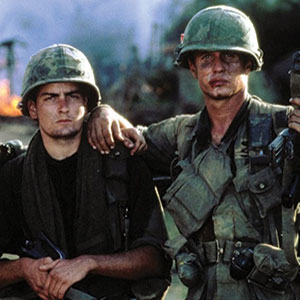 Even the best war movies are an imperfect way of conveying what it's like to be a soldier. But the most respectable war films are the ones made by directors who heard shots fired in anger—William Wellman, Sam Fuller and Oliver Stone, for example. Stone was a two-term vet of the Vietnam conflict. His war film Platoon (1986) was not just Oscar-laureated as best picture, but an assembly of the class of some of the best actors of the next 30 years.
Writer and director Paul Sanchez's documentary Brothers in Arms collects interviews with the cast of Stone's semi-autobiographical Vietnam movie, which includes instantly recognizable character actor John C. McGinley; the ever-mellifluous Keith David, Willem Dafoe, Johnny Depp, Tom Berenger and the executive producer and narrator Charlie Sheen. Sheen played Chris, Stone's surrogate in the film. He narrated the original Platoon in the form of letters to his grandmother. Chris has a first tour of duty that spans the commencement of the Tet Offensive in 1968, and the turning of the war in favor of the Viet Cong.
Sanchez, who resembles Ernest Borgnine, played Platoon's medic, Doc; he'd studied acting on a scholarship with the renowned Stella Adler, and later he shared an apartment with Depp after the Philippines-based filming was over. Brothers in Arms reminds us that Platoon was a little picture as it was being conceived, an indie film, non-Screen Actors Guild, 10 years in development, with loads of refusals by studios all around.
The casting was an ordeal. Ivan Kane, who played Tony, here recalls the group of "brokedick actors" standing around hoping to get a role. The 33 men who finally got cast must have questioned their luck when they got to the Philippines and endured basic training at the hands of retired Marine Capt. Dale Dye. They were drilled and marched, and if they weren't given actual live ordnance, there were enough blanks to cause injury. (Sheen got a smoke grenade in the testicles). The hard work resulted in a certain authenticity—in the riotous R&R after 12-hour days on set, the cast swilled lambanog, a South Pacific moonshine made from coconuts, and later took over the hotel bar stage to play music with Depp on guitar and Richard Edson, the original drummer for Sonic Youth, keeping time.
Depp recalls the shoot, while wearing a Bad Brains T-shirt, airing his tats and displaying his terrific guitar collection. During Platoon's village atrocity scene, a Filipino constable almost drew his gun on Stone when the director was bellowing at a 9-year-old girl who couldn't cry on command. If Depp couldn't match that, later on he drew his own personal weapon, nearly taking a public whiz on Stone's head. ("History will absolve me," Depp recalls thinking at the time.)
It's a pity that Stone couldn't bring his side of it. Husband and wife co-producers Lisa Poggi and Don Anderson said via phone that Stone had been busy with his upcoming film Putin and didn't step in front of the camera: "Lisa and I were a little worried about that." Poggi added "Paul Sanchez called him—he knew Oliver and we didn't. We were happy and relieved to hear he saw this, and he liked it. We felt he'd appreciate the honesty of Brothers in Arms and see the love everyone has for him, despite the trauma of the shoot."
The production team got involved with Sanchez through personal connections. "Well, the long and the short of it is that Paul is my ex-husband," Lisa said. She and Sanchez hadn't seen the premiere of Platoon together when it debuted—he was in L.A. and she was in New York on the Christmas it came out. (It was a holiday release, timing that added to Sheen's worries about the film: "Nothing says Christmas like Platoon.")
Lisa recalls: "All I can say is that I was sucker punched. It was brutal in the most excruciatingly beautiful way. All people who were there in the theater just let out this audible gasp and then sat still in silence—minutes, it felt like—and then people started applauding like crazy."
Watching this documentary, one gets a vicarious sense of the fun and sorrows of an actor's life. Dafoe here says that he doesn't pretend that the film made a military man of him, but the kind of military training he and his co-stars endured "invites us to pretend better." And that's not a bad definition of the benefits of a war movie.
Brothers in Arms
Mar 11, 6:30pm
California Theatre, San Jose
cinequest.org