Movies
Review: 'City of Gold'
New documentary examines the work and impact of
Pulitzer Prize-winning food critic.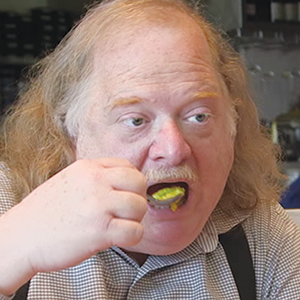 Clearly a person needs to eat before they see City of Gold, the lovingly-made documentary about LA Weekly and LA Times food critic Jonathan Gold—the scenes of the simmering black Oaxacan sauces, flaming Thai curries and gourmet taco trucks are food porn of the rarest order.
But even indifferent foodies can enjoy this profile of an erudite yet funky writer. With large brow, larger girth and a Ben Franklin haircut, Gold could be a model for Dutch master Frans Hals, or anyone's picture of Falstaff. But during ride-alongs in the Dodge truck of this eminent critic, we get more than just profiles of restaurants high and low, and supporting commentary by the likes of Calvin Trillin.
Part of Gold's mission is to sample the dishes that titillate a six year old, grasshoppers, slime eels and deer penis. Ignore that Indiana Jones and the Temple of Doom menu, though. Laura Gabbert's documentary gets as close to zeroing in on the soul of Los Angeles as anyone since Thom Andersen's Los Angeles Plays Itself.
A scene of a smoggy sunset over a Foodco—as the guitar solo from Funkadelic's "Maggot Brain" wobbles away—gives an idea of what people love in that impossible, homely megalopolis. Gold merited his Pulitzer Prize: he got the L.A. papers of record to recognize the seemingly humble strip-mall ethnic restaurant, all located in the parts of that city that rarely see a film crew. Gold's perceptiveness as a food writer is similar to the rare film critics who were sharp enough to recognize that ashcan directors like Samuel Fuller and Edgar Ulmer understood so much more about life on the streets than their more celebrated, better paid Hollywood colleagues.
Gold was a failed classical cellist who studied at UCLA; happily, he was also there in person to be part of that small moment when punk rock briefly broke down social barriers in L.A. (A poster shows us that either his band opened for The Urinals or The Urinals opened for them). Images of a sweet homelife season this film, with commentary by his wife and former editor Laurie Ochoa, and his daughter Isabel, a talented cartoonist. The film is also a small meditation on the way L.A. suffered in the aftermath of the Watts and Rodney King riots. An unalloyed success, this documentary makes the city and its subject one.
City of Gold
R; 96 Minutes
Camera 12, San Jose