Movies
Review: 'Coco'
New Disney animated film brings the underworld to life with vibrant color, choice tunes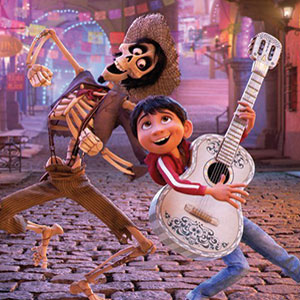 Mariachi trumpets play "When You Wish Upon a Star" over the Sleeping Beauty castle in the titles, and papel picado comes to life to tell Coco's back story. It's a Garcia-Marquez sort of tale: not a story of 100 years of solitude, but 75 years of quietude.
The Rivera family of Santa Cecilia, Mexico, has banned music in their house ever since a guitarist married and abandoned great-grandma and her daughter back in 1942. The titular Coco is the hairy-chinned grandma, child of the wandering musician. She is now deep into senility.
The family toils in the shoemaking business. The peg, awl and leather are waiting for young Miguel (voiced by Anthony Gonzalez) when he gets old enough. But the boy has a forbidden passion: a hidden homemade guitar and a secret altar to the most famous man who ever lived in Santa Cecilia. That's Ernesto de la Cruz (Benjamin Bratt), a musical star of Mexico's epoca de oro cinema. De la Cruz's career resembles that of Jorge Negrete…but it's not actually him, since Negrete's ghost turns up later for a cameo. As does Frida Kahlo.
On the night of Los Muertos, Miguel breaks into the tomb to borrow the sacred guitar of de la Cruz. This bit of blasphemy has instant repercussions: glowing with a marigold-orange nimbus, Miguel is transported to the city of the dead. He's aided there by Hector (Gael Garcia Bernal), a tricky, hustling skeleton seemingly modeled on Mexican comic Cantinflas. Hector is trying to outwit the afterlife bureaucrats, who are as stringent as the civil servants in Beetlejuice. Meanwhile, Miguel is already starting to see his bones through his transparent skin. The boy won't be going home if he can't find a relative to bless him and let him return to the land of the living.
Santa Cecilia is about as key to everyday Mexican experience as life on Ma and Pa Kent's farm is to an average American, but the million lights of the city of the dead, spread over the steep hills like Guanajuato, serviced by Porfirio-era trams—now, that's worth visiting.
Among the skeleton city are living Oaxacan-style alebrije critters, including a dazzling, flying lion with ram's horns, flamboyant in black-light colors. Other, less splendid species are lurking about: at a fancy party, there's a crawling painted hedgehog with hors d'oeuvres stuck to his toothpick quills. Miguel's companion is a live dog, the well-wrought comedy relief critter Dante—though shouldn't it be Virgil? The goggle-eyed rubbery street mutt is so long of tongue that he lassoes his own muzzle.
Disney made an insane attempt a few years ago to copyright the phrase "Dia de Los Muertos" when Coco was in development—wouldn't it have been something to see the lawyers arguing the point among themselves! In penance, the studio hired cultural advisers, including the cartoonist Lalo Alvarez of the panel cartoon La Cucaracha. (Alvarez sounded the alarm about Disney's attempt to rebrand Mexican cultura by illustrating a Godzilla-size Mickey Mouse skeleton attacking the world.) Scads of Latin actors pack the cast: Luis Valdez voicing one of Miguel's deceased uncles, "Fluffy" Iglesias, Cheech Marin and the director-actor Alfonso Arau.
We'll probably hear from fans who stoutly prefer Book of Life to Coco, just as there are people who strangely prefer Space Jam to Joe Dante's Looney Tunes Movie. Others will detect a faint taste of Taco Bell in their mouths watching this, with its wayward third act, and a soundtrack that tends toward musical mayonesa. The exceptions are some not-bad translations of some traditional songs and a cover of "La Llorona" performed by Alanna Ubach and Antonio Sol. And it's not all for the kids; some poisoned tequila and betrayal is added to the mix to deepen the melodrama. This bright and mostly entertaining Coco honors Mexico. It's a good first step. At least in terms of learning things from cartoons, a little knowledge may not be a dangerous thing.
Coco
PG, 105 Mins.
Valleywide