Movies
Eating 'Goodfellas'
Martin Scorcese's 1990 gangster epic is on deck for The Pruneyard Cinema's series, Culinary Cinema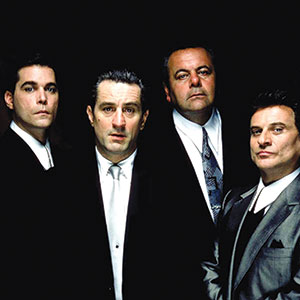 Time is always short, and the chance to match up a good dinner with a good movie appeals to overbooked valley-dwellers. The Pruneyard Cinema's Culinary Cuisine series, running through the spring, began with last week's pre-Valentine's Day event matching Casablanca with chicken and couscous, and no-host cocktails from the Cedar Room.
Jack NyBlom is an exhibitor of decades-long experience who is one of the partners in Campbell's Pruneyard Cinemas. Now that it's been open a year, NyBlom says Pruneyard regulars are making it a kind of club, with trivia nights and other events. "It's been really catching on, and people love it. They want to see these films the way we're presenting them."
It's hard to think of 1990's Goodfellas (March 16) without the scene of the old prisoners stewing up some ragu on a hot plate and cutting a clove into parchment-thin slices with a razor blade. Cuisine is a mitigating factor for the treachery and viciousness of these overgrown boys in their spearpoint-collar shirts. They may be murderers, but, like Tony Soprano and his crowd, at least they know the difference between good food and bad food.
The dinner that comes with this Scorcese classic is Italian, of course; ziti with meat gravy, sausage and peppers, tiramisu for dessert. NyBlom says the booking is due to the success of The Godfather at an earlier Culinary Cuisine series. "The Godfather sold out right after we announced it," NyBlom says. One worry about eating Italian during a mafia movie is that you might take a forkful of red sauce right when a wetwork scene begins, which NyBlom understands.
"There are some things you don't necessarily want to see when you're eating," he says.
My Dinner With Andre (April 20) hasn't persisted in the public memory the way it should have. NyBlom screened this 1981 picture on its first run at the since-demised Camera One.
"I was always working out in front," he recalls. "People started walking out half-way, and I'd try to stop them and get them to stay."
It's about the fictionalized meeting of two old friends, Wallace Shawn and Andre Gregory, both longtime Manhattan actors and writers. During the movie-long conversation, Gregory spins outlandish stories of his worldwide eat, pray, love search for artistic integrity. Finally, the exasperated Shawn gets a word in edgewise. He takes the part of a nebbishy, irritable apartment-dweller, who considers it a great omen for the day if he doesn't get a dead cockroach in his coffee cup. While they hash it out, the Pruneyard serves up a menu of roast chicken with raisins and roast potatoes, with a green salad and Amaretto cake for dessert.
"When we screened It's A Wonderful Life, afterwards we asked people if they're going to come to Casablanca, and we saw a field of hands," NyBlom remembers. "Then we asked who'd be turning up for Tampopo (May 11) and it was just two or three hands. Part of my job as a curator is to get past that resistance."
Tampopo means "Dandelion." Nobuko Miyamoto, a sort of Doris Day for 1980s Japanese comedies, plays a single mom who buys a ramen shop out in the Tokyo suburbs. But she's a dreadful cook. A courtly, square-jawed trucker comes to her rescue, rounding up, Seven Samurai-wise, some masters of the craft of noodle making. Juzo Itami's 1987 international hit was a sort of sketch comedy, but with crazily sensual bits marrying food with love.
The stir-fried chicken ramen spaghetti course might be a little challenging to eat in the dark. NyBlom notes, "We make it work, it's tricky sometimes. The one thing we don't do is requirire anything that has to be cut with a knife. We cut up the meat into bite-size pieces."
NyBlom and his partner Peter Liebow are planning upcoming Culinary Cinema shows, including perhaps a revival of the 1988 Babette's Feast; years ago, the Camera Cinemas partnered with a French restaurant to recreate as much of the on-screen banquet as they could. As for upcoming screenings, NyBlom says, "We're all over the map with this. Peter's thinking maybe Forrest Gump—Peter reminded me of the food references in it, the gulf shrimp and the chocolate."
Culinary Cinema
Thru May, 7pm, $47.50+
Pruneyard Cinema, Campbell
pruneyardcinemas.com/culinary-cinema