Movies
Review: 'Curse of the Cat People'
Film from 1944 is playing at Stanford Theatre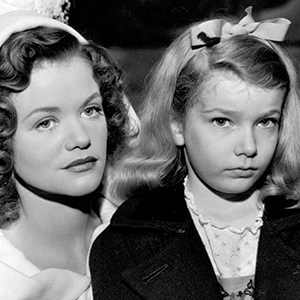 Despite the snazzy title, 1944's Curse of the Cat People has as much pity and tears in it as chills. Young Amy (the excellent Ann Carter) lives in Tarrytown's Sleepy Hollow. She's too strange a 6-year-old to make friends. Her elderly neighbor Mrs. Farren (Julia Dean) who is an old actress and perhaps demented, gifts Amy with a ring. After being joshed by the family's servant (the noted calypso singer Sir Lancelot) about the magic wishing rings they had back in Jamaica, Amy wishes up a companion. She's a lovely lady dressed like Queen Guinevere: "I come from a place of great darkness and deep peace," says this apparition, who is called Irena (Simone Simon). Those who saw Curse of the Cat People remember Irena, destroyed by her belief that she was a werepanther; the doomed woman was Amy's father's first wife.
Curse of the Cat People wasn't a hit, and it's hard to imagine a world where it would be one. It was a troubled film, with editor Robert Wise debuting as a director after he was assigned to take over the Val Lewton production. A slight bit more time for one arc of the story to develop would have helped. Yet, given the lushness of the visuals, and the surmise caused by the shadow of flapping curtains at night, it's rich looking for a low-budget, no-star movie. The too-little-known photographer Nicholas Musuraca (The Spiral Staircase, Out of the Past) consistently reminds us that this film was made at the studio that had made Citizen Kane just a couple of years previously.
Elizabeth Russell, who plays Mrs. Farren's scorned daughter Barbara, may be the best adult actress here. She's very pitiable, weathering the scorn of her theatrical mother, who either through fancy, senility, or cruelty keeps calling her an impostor. The Curse of the Cat People delivers old dark house terror, with the serious as cancer concluding moment of a woman slowly mounting the stairs, with murder in her eye. And yet, in its psychologically incisive study of a child's imagination, Curse... could be describe as a somber, classical version of the story of the vanishing of Bing Bong in Inside Out (though it might make a better pairing with Coraline).
The Curse of the Cat People
Unrated; 70 Mins.
Apr 14-16
Stanford Theatre, Palo Alto