Movies
Dallas Buyers Club
A scrawny Matthew McConaughey brings life to Dallas Buyers Club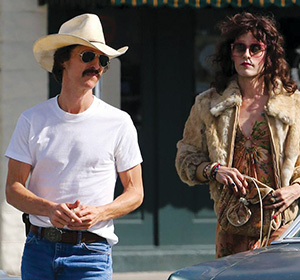 The rise of a brave new actor is something to see, but second to that is the sight of an actor who had begun his career as a good-looking slouch, starting to stir himself and do things. Now, after his celebrated role in Mud as a mysterious stranger, Matthew McConaughey has a big-star performance in Dallas Buyers Club, as Ron Woodroof, a wiry, dying rebel, emaciated with AIDS to the point where his rodeo belt buckle seems heavier than he is.
Director Jean-Marc Vallee's film is set in 1986 during the worst of the AIDS epidemic. Woodroof, a trailer-dwelling oilpatch electrician, develops a cough that won't go away and a headache that lingers like a bad hangover. After he collapses during a workplace accident, he comes to in a hospital, where he's informed by a pair of germ-masked doctors that he's got AIDS. "Fuck you, I ain't no faggot!" he protests. (When he thinks on it hard, Ron dimly recalls a scene with some kind of prostitute; that's the best clue he has to how he got the disease.) Heterosexuality won't save him: he's got a T-cell count in the single digits and a diagnosis of death within a month.
He learns of the murderously expensive drug AZT and buys it in the parking lot from a hospital orderly, before the supply runs out. Then he heads to a Mexican clinic where he builds up his strength with vitamins and aloe vera. Through a business partnership with a pinkly-powdered drag queen named Rayon (Jared Leto) Ron hustles up some serious money distributing the nutritional supplements to the AIDS cases in Dallas. As he goes international in search of more serious pharmaceuticals—flying to Japan and Israel in search of Interferon—he's harassed by one wattles-shaking FDA agent who keeps turning up, the same way that one particular Dallas policeman (Steve Zahn, squandered) also keeps turning up to save Rob from his own misdeeds.
It's two films merged messily into one. One concerns the co-ops that people with AIDS formed to get the drugs the FDA and Big Pharma dawdled over, a story told in a far better film, the documentary How To Survive a Plague. The other, lesser movie is about a homophobic Texan who slowly learns to tolerate got-damn queers. This second movie congratulates you for your own tolerance.
Dallas Buyers Club eludes realism in the character Jennifer Garner plays—she's supposed to be a physician, but she's such a fountain of unadulterated compassion that, in an older version of this movie, she would have been a nun. All the realism falls on Rayon; he's shot to look as much like a Diane Arbus photo as possible, only with an oddly quiet Mrs. Doubtfire voice. He always has a few runs in his stocking, and scars from the drugs he shoots up in his rump; Rayon is always photographed in the least-alluring light as Ron scalds with insults—I think we're supposed to think it's cute the way they play together.
Dallas Buyers Club is made for distracted home viewing. It makes its points and remakes them, so much that it's easy to stop noticing when it contradicts itself. It's not clear when Ron leaves his skeevy motel headquarters and takes up residence in a donated office, because he seems to be doing business in both. At his local bar, Ron gets treated as a diseased pariah, and he nearly causes a bar fight. A few scenes later he's right back at that same bar, as if nothing happened.
Still, McConaughey's hard-edged cowboy charm reminds us that in a time of discrimination and inept response to a crisis—just as in times of wartime occupation—it's the criminally-minded pains in the ass that survive. He'll be at the awards shows this winter, and he'll deserve to be there, not just for the stunt of starving himself gaunt for the part, but for making this movie live as well as it does.
117 MIN; R