Movies
Deceptive Practice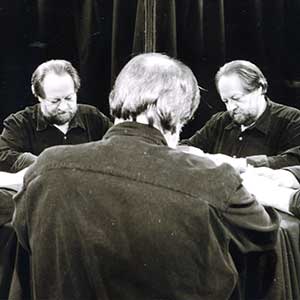 Born Ricky Potash in New Jersey, the subject of the documentary Deceptive Practice: The Mysteries and Mentors of Ricky Jay doesn't seem to have been a sinister young man. He was a genial long-hair demonstrating his feats, such as the ability to flick a playing card like a ninja star—an achievement recently filched in Now You See Me. Twenty or 30 years ago, Jay was a laid-back contemporary and co-star of Steve Martin, who also got stranger as he got older.
Jay has been performing on TV almost as long as television has been broadcasting, making his first appearance at age 7. He was the grandson of a well-known New York magician in the 1940s. Some irreparable rift between Jay and his parents split them up, and he went off to the Cornell area, both as student and bartender. We learn of the many influences Jay had: magician Charlie Miller and the tricksy Dai Vernon—a trustworthy-looking Canadian nonagenarian whose dentures whistled a bit. Another favorite was the unjustly forgotten Al Flosso, "The Coney Island Fakir," funny enough to bust up Ed Sullivan.
He's a good actor, Jay; he was an excellent assistant Bond villain—a credible Indian Brahmin in Tomorrow Never Dies. The clip here from House of Games has Jay as a winning gambler, incensed at a loser who dared to waste his time on a sucker bet. It's easy to see what drew David Mamet (interviewed here), who directed Jay on stage and screen: the warrior side of the magician, the truculence when dealing with fools.
The tenderest moment comes from a witness: Susie MacKenzie of The Guardian, a reasonably skeptical reporter, recalling the emotions she felt witnessing an inexplicable trick performed for her when she was writing about Jay. What's particularly fine about Molly Bernstein and Alan Edelstein's documentary: Jay talks about his life and times for an hour and a half, and you still don't feel you know anything about him—that the splendid feats and dazzling card magic have directed our attention away from the inner life of a large, glowering and cryptic figure. You learn a lot from Jay, and yet he keeps his mystique.
Not Rated; 88 Min.