Movies
Review: 'Deepwater Horizon'
Dramatization of drilling disaster hits black gold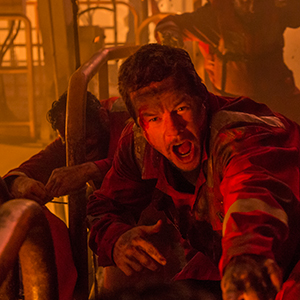 Before declining into standard uplifting moments of waving flags, prayer and action movie super-feats, Deepwater Horizon is a thrilling procedural about the worst oil rig disaster in history. Director Peter Berg (Lone Survivor) approaches these roughnecks from the opposite angle that Michael Bay would have taken: they're more soft spoken and less profane than you'd expect.
The exploratory well that the floating Deepwater Horizon was trying to tap was nicknamed "the well from hell"—the drilling project was 43 days and $50 million over budget, and British Petroleum is accused here of cutting corners on safety and maintenance. Berg stresses the human price of the disaster; the ecological disaster to come is signaled only by one startling image of an oil-soaked and screaming pelican flying blind and smashing up a control room.
Mark Wahlberg is the lead, but far more interesting is one of those classical-versus-baroque acting duels that makes movies so much fun. Kurt Russell, with an economical haircut and a white-tipped mustache, is Jimmy, the most revered engineer aboard. He's the traditional disaster movie archetype—the guy who smells trouble before anyone else. Smiling like a treacherous lion, John Malkovich is Vidrine, the company man, togged out in a sweaty blue Oxford shirt with the BP medallion on it. The Great Malkovich has a bogus but endearing Cajun accent, and the two just play off each other, the stalwart versus the slippery.
The home front stuff (groan, Kate Hudson as a self-declared "simple country girl") adds Hamburger Helper to the dish. Once the disaster starts, it has its share of awe: exploding valves, rupturing pipes, rivets firing like .45 slugs, and computer screens reading "ANNULAR FAILURE" (which sounds like something you wouldn't want your doctor to diagnose). Finding the happy human side of this mess, Deepwater Horizon ends with an album of pictures of the real victims and survivors of the doomed platform. You never saw a group of people who looked less like movie stars. To quote a line in the movie, that tactic may not be stupid, but it sure ain't smart.
Deepwater Horizon
PG-13, 97 min.
Plays valleywide