Movies
Review: 'Denial'
Film about Holocaust denier drags, draws potent political parallels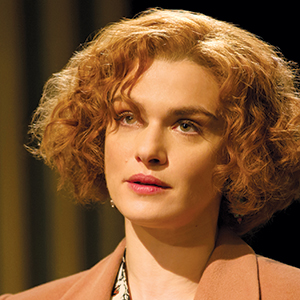 Who doesn't wish that Auschwitz was just a bad dream? The middling yet entertaining movie Denial concerns David Irving, one of the world's most unappealing contrarians, and the Emory University professor Deborah Lipstadt, whom Irving sued for libel in the British high courts.
Lipstadt (Rachel Weisz) is a renowned expert on the Holocaust at Emory University. In one of her books, the professor dismissed the work of the self-taught British historian and Holocaust denier David Irving (Timothy Spall). In the 1990s, Irving got a sympathetic audience for his Holocaust theories because of his embrace of Fred Leuchter's faulty research—see Errol Morris' excellent documentary Mr. Death about that deluded engineer, and how Leuchter vandalized Auschwitz to try to prove his point.
Even if it takes us to Auschwitz, crusted in snow and shrouded in ground fog, it's dryly funny at times. Director Mick Jackson (Volcano, L.A. Story) has previously shown a talent with comedy. There is evil humor in Irving's mulishness, as he tries to erase the stain on the reputation of his beloved Fuhrer. Irving's tactics—likened by one reader of Lipstadt's book to Maxwell Smart's "Would you believe?..." routine—would be ridiculous if it weren't so hateful. Denial inspires the chuckle of satisfaction one gets watching a bully get what's coming to him.
As a courtroom drama, Denial is for the London tourist. Deborah, the visiting American, is wowed by the cathedral-like ceilings of the gothic High Court building; the camera passes through an arcade in which the wooly court wigs are on sale. Yankee viewers can puzzle over the tradition that has British judges dressing in red Santa Claus suits.
Screenwriter David Hare contrasts the emotional Jewish-American with the dogged British, who are ready to take Irving down in public. Lipstadt's History on Trial: My Day in Court with a Holocaust Denier is full of the frustrations of being sued for libel in an English court where the accused must prove innocence. But a miscast Weisz plays Deborah as a pain in the rump—morally right but a little obtuse to some well-thought out legal strategy.
Weisz has dyed russet hair in a '90s mop cut, as if she were impersonating Amy Irving in a biopic; she uses a Queens accent as stage-Jewish as Kyle's mom on South Park. As in Sully, Deborah goes for night jogging, and keeps stopping to admire the statue of the warrior queen Boadicea, to whom the film affectionately links her, twice. It's fair enough to contrast the ancient and modern heroines. When Deborah likens the lawsuit to resistance in Nazi-occupied Europe, it seems self-aggrandizing.
The male actors corner the movie. Spall, who has lost a startling amount of weight since Mr Turner, excels at preening arrogance. He makes Irving a combo of puppy and coyote, with the slipperiness of the racist who can change his terms and deny what he said. Plenty of vinegar here from Tom Wilkinson and the ever-feline Andrew Scott as the inside and outside man in the long trial. Wilkinson is Richard Rampton, the bon vivant barrister never far from an open bottle. Scott is Anthony Julius, a chilly, almost priestly solicitor whose part in the trial is to conduct the research. In Scott's performance, we see, as it were, Moriarty playing Sherlock Holmes. Take Scott's low-key description of services for a certain aristocratic client: "Diana needed a divorce, and I, uh, acted for her." One wanted to see these devastating lawyers crush the Nazi apologist, without interference. It's not quite as interesting to take in the hurt feelings of Deborah, justified though she is.
The movie ends with a denunciation of well-paid liars, including those who try to wish away evidence of melting ice caps. Viewers of Denial might contrast David Irving and a certain presidential candidate who ignores the research of experts, as well as the common experience of everyday life. A man, like Irving, who is self-pitying when called on to justify his outbursts; a man, like Irving, given to digging his own unique view of history straight from the inside of his skull.
Denial
PG-13; 110 Mins.
Camera Cinemas