Movies
Review: 'Dolemite is My Name'
Eddie Murphy returns in ensemble biopic about raunchy 1970s comic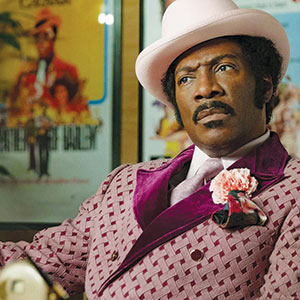 An unusally off-beat "let's put on a show" of a movie, Dolemite is My Name is a dirty, funny ensemble comedy about psychotronic film. Director Craig Brewer (Hustle & Flow) stars Eddie Murphy as a warm and likable Rudy Ray Moore, an inept comedian of the funk era who dreams of being a bad-ass martial arts star.
Moore is another unhappy would-be performer in 1970s LA. He has the inspiration to tape-record the winos hanging around the record store he haunts, rhyming their tall tales of might. With the aid of friends and hard work, Moore turns an abandoned Central Avenue hotel into a film studio. He recruits a group of friends to make cinema out of the tale of Dolemite, giving this mythical hero an army of kung fu babes, on a mission to wipe out evil racist drug dealers.
The hotel Moore rents is littered with relics of the greats, with photos of Ella and Louis Armstrong gathering dust on the walls. The motif gives us a sense that Moore was in touch with some ancient mojo. Seeing Eddie Murphy get in touch with this force by reciting "The Signifying Monkey" is a happy experience.
Murphy's bankability got this oddball movie made, but he's miscast. I met Rudy Ray Moore, and you, sir, are no Rudy Ray Moore—neither stocky enough nor downhome enough. It's like watching Will Smith play Screaming Jay Hawkins. Even though the 1970s have proven (see The Deuce) to be one of the few eras in which people are allowed to have sex in a movie, it's weird to see such tiptoeing around that part of the hero's, eh, journey. Fancy that, a biopic of Rudy Ray Moore where the great man never gets laid.
The real life Rudy had a co-star called Sir Lady Java, a highly convincing female impersonator and LBGT activist, still living; Murphy probably didn't want to go there for reasons that a quick Google search will reveal. Moore has a gay sidekick (Tituss Burgess), who gets to make a comment or two about how he'd like to get his hands on a man, but nothing beyond that. To reverse a complaint Moore makes here about censors: It's okay if you talk about it, just don't do it.
The Scott Alexander and Larry Karaszewski script is another labor of love that tampers with facts. Just as their Ed Wood screenplay made the devout Bela Lugosi a swearing codger, and just as they likened the off-the-leash Wood to Orson Welles, Moore is compared here to John Cassavetes. Whether Dolemite (1975), The Human Tornado (1976) or (my favorite) Petey Wheatstraw, the Devil's Son in Law (1977) has the status of Shadows or Faces is moot.
Still, Dolemite is My Name is the kind of film for which they mint ensemble awards. Two plus-size women stand out. Luenell is the aunt from whom Moore mooches the production money; Da'vine Joy Randoph is, indeed, a joy as Lady Reed, the fantastically foul-mouthed Georgia gal whom Moore discovers alone at a Georgia bar. Keegan-Michael Key is beautifully earnest as an over-sincere South LA playwright recruited to script Moore's crazy opus.
And Wesley Snipes is an absolute howl as the piss-elegant and jittery D'urville Martin, a noted legitimate actor enlisted as Dolemite's director. Martin must drink heavily because he can't believe the "monstrosious"—to use a Moore term—scenes he's supposed to be directing.
Snipes' double-takes are worthy of Preston Sturges. Chris Rock gives the film's inevitable arc of triumph a boost. He's an Indianapolis radio DJ who helps light up the marquee for Dolomite by plugging the show on air: "Come on down! It'll be like Christmas, except your daddy's not drunk and your mama's not cryin'!"
Dolemite is My Name is great fun, despite the way it disgruntles the serious Rudy Ray Moore fan. Excerpted is the actual clip from Dolemite—of Moore's ass-naked roll down an ivy-covered hill—which Moore helpfully freeze-framed to prove it was actually him doing it and no mere stunt double. We see the freeze-frame but not the follow-through. What happened? It was a hell of a stunt. Every now and then, you get the sense that Murphy is making sure that the real Dolemite isn't upstaging him from beyond the grave.
Dolemite is My Name
R; 117 Mins.
Oct 25 on Netflix