Movies
Review: 'Don't Worry, He Won't Get Far on Foot'
Joaquin Phoenix is memorable in new Gus Van Sant biopic on late Portland cartoonist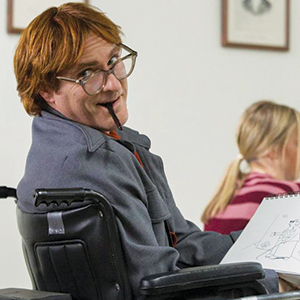 The mark of a good movie about Alcoholics Anonymous is that it doesn't make you want to run for the nearest bar as soon as it's over. Happily, such is the case with Don't Worry, He Won't Get Far on Foot, concerning the late, disabled Portland cartoonist John Callahan.
Gus Van Sant's long-delayed biopic was in the works for a more than a decade. Robin Williams was slated to be in one version of it. Van Sant, bouncing back from some recent, flawed films, has a less winsome and more subtle star than Williams in the form of Joaquin Phoenix.
Phoenix plays this beatific slacker with thumbprint-smeared glasses and a shock of hair dyed the color of the Golden Gate Bridge. He's consistently surprising—quiet and ruminative as well as devilish—as the hardcore drinker, nearly killed in a traffic accident and left in a wheelchair as a result. In recovery, Callahan develops skills as a gag cartoonist with a great deal of low-down humor and shock value.
It commences in a sturdy old scene, the man at the pinnacle of his career being honored at the podium in front of a slide-show of his work. It flashes back some 20 years to Callahan's last day on two feet: starting with a cigarette in the shower, and heading out for a medicinal half-pint of tequila to the beach. There, John tries to interest a female surfer in an early morning drink. ("If the sky gets any bluer, it'll start singing Muddy Waters tunes," he tells her. Nice try, but she doesn't get it.)
Day drinking gives way to more serious guzzling, as John and his dubious new acquaintance, Dexter (Jack Black), roam a cycle of parties in Long Beach, before the car crash. Van Sant leads us, through split screen, to John adjusting to paralysis—trying to be a drinker and a paraplegic at the same time. After he hits bottom, the cartoonist-to-be wrestles with the 12 steps in an eclectic support group at an over-decorated mansion.
The meeting is chaired by Donnie, an effete, spiritual idler (a very impressive, drily funny Jonah Hill). Among the other members are Sonic Youth's Kim Gordon as "Corky" and Udo Kier who, disappointingly, gets interrupted in what sounds like a supernatural drunkalogue about the roots of his addiction back in the Black Forest at his grandmother's house. Hail noble Kier, proving once again that after an actor plays Dracula he never really comes back.
All this is attractive quirkiness, more believable than John's part time romance with a Swedish nurse turned stewardess, played by a short-haired Rooney Mara using her Girl With the Dragon Tattoo accent. She's such a dream girl that you suspect she's going to turn out to be an imaginary muse.
Mostly the film succeeds on tone and sheer likability. It's good and raucous, as in Callahan's experiments with post-accident sex (including clips from a vintage '70s therapeutic movie about how to do it in a wheelchair). It's all less serious than The Sessions. Van Sant captures the sense of Callahan's success, and the point-black black humor of his work.
The cartoons—bulbous, grotesque and enraging, carried out with Callahan's limited mobility— turn out to been quite studied, done over and over again for maximum punch. And there's a bit of slapstick in the way Callahan races his wheelchair in front of speeding cars, and up a skateboard ramp. Here is not so much a sense of confinement as exhilaration, as in a wheeled dance around some stone city park sculptures with a female friend. Van Sant's facility with street life is so gifted that you don't mind the AA cliches that emerge. ("Maybe you were weakened so that you could become strong," Callahan is informed).
The director evinces nostalgia for Portland before it became Portlandia, the old city where he began his filmmaking career 30 years ago with Mala Noche. A story of recovery such as this usually isn't as balanced between the scary fun of carousing and the time spent in contemplation and making amends. The movie offers a sense of place as well as a sense of play.
Don't Worry, He Won't Get Far on Foot
R; 113 Mins.
Aquarius, Palo Alto