Movies
Review: 'Dumbo'
Though the live-action reboot has its moments, it can't
top the masterful Disney original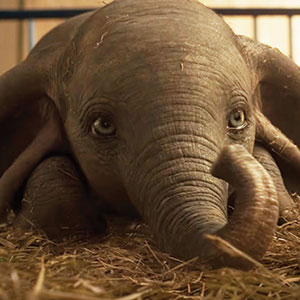 Aside from some gross racial caricaturing; the original Dumbo (1941) is an unusually hand-made cartoon. Here in 64 minutes is not just the elephant child's tragedy at being separated from its mother, but the sweat and stink of a circus, and a squad of clowns who are dangerous and really know their business.
In the magnificent "Pink Elephants on Parade" sequence, the animators went after the pretensions of Fantasia, with strobing color and surrealism. It's the rare instance of Disney being as funny as a Bugs Bunny cartoon.
The live action version is, by contrast, cluttered and starchy, and not about to make risky jokes about drunk animals. In 1919, trick rider Holt Farrier (Colin Farrell, appealing) comes back from WWI missing an arm. He returns to a battered circus run by Max Medici (Danny Devito). His late wife left behind their two kids: young Joe (Finley Hobbins) and Millie (Nico Parker, Thandie Newton's daughter). Parker does her lines in a clipped, precocious Wednesday Addams diction—she's a science geek with little interest in circuses. They are there to be kids in a family movie that doesn't have a lot of interest in the kids' characters
The down-and-out circus is saved by the birth of an elephant with freakishly big ears... who can fly. The wondrous beast attracts the attention of a tycoon (Michael Keaton) who owns a Coney Island-style park; he brings with him the French aerialist Collette (Eva Green), who is by a mile Dumbo's most redeeming quality. Green excels at the New Vaudeville look, leggy, glittery costumes, with bobbed hair and a ceramic-hard mask of charm: the chosen face of a performer meant to be seen from 50 feet away. She's not intimidated by the soaring pachyderm: "I know how to fly, ever since my childhood." It was an inspiration to give Dumbo a partner, someone to calm the creature. A satisfying moment after a tumble from the heights into the net. The elephant and the lady bounce into a cozy position, like a couple greeting guests from a couch.
Dumbo himself, rendered into a living elephant with glassy eyes, sometimes shows how dark the film could have gone, as when he's crouched in the shadows in his Pagliacci make up. Dumbo is a three ring circus that needs ring mastering; director Tim Burton's preference for atmosphere over lucid storytelling means that it's hectic; the circus folk are given a quick display and then they're mislaid by the plot. This film isn't Burton's worst—that's Dark Shadows—but it plays more like Spielberg doing kid-fodder with the help of Burton as production designer. The movie is a white elephant.
Dumbo
PG, 112 Mins.
Valleywide