Movies
Review: 'East Side Sushi'
'East Side Sushi' tells the inspirational tale of an unbowed Oakland woman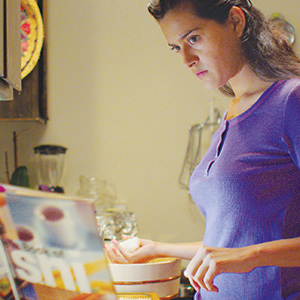 The locally made comedy, East Side Sushi by Anthony Lucero, a hit at this year's Cinequest, isn't just a fish out of water story—it's a fish out of water, chopped into pieces and rolled into sticky rice story. The film follows Juana (Diana Elizabeth Torres), a single mother living with her kindly dad (Rodrigo Duarte Clark) and daughter Lydia, as she runs through a number of laborer jobs. She scrubs the floors at a gym, scrubs luxury automobiles at a car wash and tends a fruit cart.
She's robbed at that fruit cart job, and it's a very authoritative-looking jacking, complete with pistol whipping—crime scenes don't always work in indie films, but this one does, as it serves to demonstrate Juana's resilience. Eventually, she finds herself working in the prep kitchen at Osaka Sushi in the Grand Lake district of Oakland. She throws herself wholeheartedly into the position, learning everything she can about the new craft, while charming the young chef (Yutaka Takeuchi). Her natural ability to make sushi brings her into conflict with the management, who bristle at the thought of a non-Japanese woman preparing sushi for customers.
Simply made, East Side Sushi is a crowd-pleaser, in the same way Ratatouille and Chef are. Lucero brings polish and skill to this working-class drama, as well as some discreet food porn. We learn a bit about the industry: Sushi chefs are solemnly quiet so there's no chance of saliva flying into the food; and women aspiring to be sushi preparers often face prejudice (allegedly, womens' hands are too warm for the work).
East Side Sushi is set in a city Lucero obviously loves. He allows the camera to linger on appealing vistas of Oakland, conga drummers performing at Lake Merritt, a lively fiesta in a Fruitvale plaza and a funky mural at a neighborhood vegetable market. Certainly there's elote (corn) in the script: take the dad's stout (and repeated) insistence that tacos are what a Mexican ought to cook and eat. Hearing that the restaurant's name is Osaka he asks, "Horchata?" But whenever Lucero lays it on too thick—one too many frowning Japanese restaurateurs standing in Juana's way—Torres' seriousness and matter-of-fact underplaying draw you back in.
I've noted previously that I am a fan of actresses who hold back on smiling; I've figured out the reason for that prejudice. A yearning actress can make a slow bloom before the camera as she gets what she wants. When Juana arrives as a contestant on the fictional Champions of Sushi reality show, Lucero cooks up some relaxed satire—playing on the self-importance and overinflated suspense that permeates the genre. Juana, ready to win, is made up for the cameras, her face embellished with eyeshadow and lipstick. Her jaw is firm, her gaze is intrepid, and she has the game face of Speed Racer himself.
CAAM, formerly the Asian-American Film Festival, helped East Side Sushi get some well-earned exposure last year. This weekend it opens a special, multimedia fest in San Jose at Camera 12. Guests include Melvin Mar, executive producer of ABC's sitcom, Fresh Off the Boat, and Greg Pak, a talented writer who went from Yale to Marvel Comics. Pak's specialty is the adventures of The Hulk, from his older series Planet Hulk to his new endeavor, the Totally Awesome Hulk.
Feature films include new works by Barney Chan (Baby Steps) and Felicia Lowe (Chinese Couplet.) The documentary In Football We Trust deals with the problems of new Polynesian football players for the University of Utah enduring the culture shock of life in Salt Lake City.
Particularly promising is Ham Tran's (How to Fight in Six Inch Heels) tantalizing Hollow—the tale of a child's angry ghost bedeviling her surviving family. When it comes to Vietnamese-themed horror flicks, you could do worse than to go in the direction of Beloved by Toni Morrison, with its idea of a shallowly-buried history waiting for its chance to rise.
Unrated;107 Mins.
Camera 12