Movies
Review: 'Eighth Grade'
Being stuck in the middle of junior high sucks, but it makes for a nostalgic story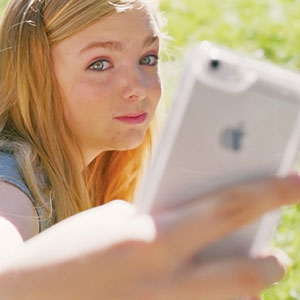 Kate and Anna McGarrigle's song, "I'm Losing You," contains a great lament. They sing, "But I never told you anything/How to keep or make a friend." The lyric speaks to that moment when a child starts to establish his or her independence from their parents. Mothers, in the McGarrigle sisters' case, wonder what skills they've equipped their children with to contend with the world at large. The song acknowledges what little control they have over whether people will accept or reject their sons and daughters. In Bo Burnham's film Eighth Grade, that larger world is junior high school, and it's an alienating place for Kayla (Elsie Fisher).
She lives with her father (Josh Hamilton) in the director's generic vision of suburbia. We could be in a middle class subdivision anywhere in America, but the colors on screen often shine like photographs in a glossy magazine. The scenery is refracted through the pop-cultured eyes of a teenager. Like most kids in her class, Kayla is fixated on her smartphone and the magical things it can do. With her cellular appendage always in tow, she makes entries in a video diary and takes one carefully composed selfie after another. But Kayla isn't vain or narcissistic. She suffers from the same isolation that Aubrey Plaza's character does in Ingrid Goes West (2017). Both girls are awkward with people IRL, so they seek connections online.
Late in the film, we find out that her mother left years ago, but Kayla never mentions her in any of her diary entries. It's a curious omission for someone so self-reflective. Instead, she makes videos that sound like advice columns for insecure girls. Kayla is playing the part of her missing mom, but she's too young to sound convincing in the role. She vlogs about having self-confidence in new situations the night before she attends a birthday party. But at the party, she locks herself in the bathroom, hyperventilating with social anxiety.
Elsie Fisher's performance is an affecting depiction of early adolescent angst, equal to Saoirse Ronan's in last year's Lady Bird. Unlike Ronan's character, Kayla is on her own with only a well-intentioned but hapless father who she repeatedly shies away from. Burnham has constructed a remarkably thoughtful first feature film. He uses Anna Meredith's electronic soundtrack to great effect. The music expresses Kayla's inner turmoil and also heightens our anxiety for her. Better than that, the director doesn't leer at Kayla. The camera captures snippets of Fisher's consciousness, whether she's feeling hopeful, bored or fragile. Burnham establishes shots by basing them on the way the character frames herself in front of her cell phone lens. When Kayla does make a friend, she beams her first genuine smile and finally puts her phone down
Eighth Grade
94 Mins; R
Jul 27
Aquarius, Palo Alto
Guild, Menlo Park