Movies
Review: 'Fahrenheit 11/9'
Michael More takes on Donald Trump in latest documentary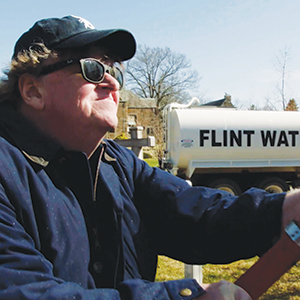 Michael Moore's scattershot documentary Fahrenheit 11/9 is a shrewd, effective state-of-emergency work—a furious reply to the event of Nov. 9, 2016, and the way, in Moore's view, the Democrats allowed it to happen. Much of this look at Trump's America concentrates on Moore's hometown of Flint, Mich., as a vision of the future of urban America.
There, thousands have been poisoned by the town's water. Michigan lies adjacent to the Great Lakes—about 20 percent of the world's surface freshwater supply—and yet the citizens of Flint were forced by a Republican-appointed emergency manager to drink from the filthy, foaming Flint River, a body of water so acidic that it caused lead to slough off the pipes. Sadly, even Barack Obama fecklessly brushed off the problem when he visited Flint.
Moore got cred as an oracle by correctly guessing that his fellow citizens from Michigan were going to vote for Trump, and Hillary Clinton avoided campaigning in Wisconsin and Michigan because of her weaknesses as a candidate. So the implication is that weak Democratic response in Flint leads directly to Hillary losing Michigan and thus the Electoral College. That, of course, and the way the Democratic establishment shoved aside the radical possibilities offered by Bernie Sanders. The last part, then, is the same gloomy argument you hear from Bernie-bros on Facebook.
These last two years have been as politically frightening as any in our history, but the paranoia here is sometimes out of control. An example is when Moore dubs Trump speeches over footage of Hitler, because the body language of all demagogues are the same. It's fun, but it's not fair.
It's also not fair to speculate what goes on between Ivanka and her bizarre father. It doesn't help that Trump clowns around with comments about Ivanka's hotness—repeatedly—but this kind of history-writing fogs matters rather than clarifying them.
"I am the storm," Trump reportedly told one of his assistants, and deranging his onlookers with his lies and bullying is his game. Moore quotes Susan Sontag, saying "We're only one 9/11 away from losing our democracy." This is almost inarguable. However, the links between the Weimar Germany and Trumpland aren't that strong, even if Moore does interview the last surviving Nuremberg judge Ben Ferencz to consider the similar styles of The Donald and Adolf. Unlike Weimar Germany, we didn't just lose a massive war with 7.1 million casualties, we're not bringing shopping baskets of worthless currency to the supermarket, and Stalin isn't looming over us, scaring the monied class into bed with dictators. Then again, I never thought Trump would win, either.
The assuredness and anger of Fahrenheit 11/9 make the reactionary documentaries of Dinesh D'Souza (and his ilk) look hopeless. And Moore guards his flanks. Trump can, and will, call Moore a faker or a fatso. But here's footage of Trump praising Moore back in the 1980s, as well as his skills being celebrated by Steve Bannon (whose money helped distribute Sicko). After all, Moore was wearing baseball caps for decades before Trump tried one on.
Fahrenheit 11/9 is a buffet movie-—you take some of it and leave the rest. Moments throughout justify it handsomely, such as the interview with the unnamed female vet who says she had better access to water back in Iraq than she does in Flint. Also encouraging is a series of populist Congressional candidates including Alexandria Ocasio-Cortez, Rashida Tlaib in Michigan, and West Virginia congressional candidate Richard Ojeda, a pugnacious double-Bronze Star winning hero.
Understandably, Moore exults over the prairie fire-like teacher's strike in West Virginia that leapfrogged over their union's attempt to compromise. And the survivors of the Stoneman High Massacre are young and seemingly fearless. Likely you've already seen this film's showstopper: young Emma Gonzalez' electrifying speech honoring her murdered fellow students. This kind of energy is worth cheering over, rather than meeting the Trump catastrophe with loathing, laughing or utter despair. "I am the storm," said the foolish old man, who forget that storms eventually blow themselves out.
Fahrenheit 11/9
R; 125 Mins.
Valleywide