Movies
A Feast of Film Festivals
Sci-Fi, African directors, international flicks and the Jewish film festival are all coming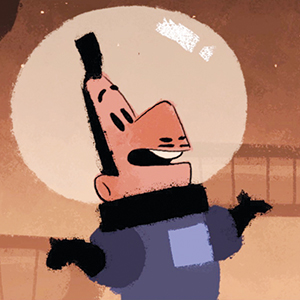 The season of pumpkin-spiced everything and falling leaves is also a heavy time for film festivals. After all, there's only so many shopping days left until the Oscar nominations are announced. The month of film festivals opens locally Sep. 28 with the Silicon Valley Science Fiction Short Film Festival at the Computer History Museum in Mountain View.
So much of science fiction depends on a single tricky idea. That's why probably the most perfect science fiction film is 1962's La Jetee, only 28 minutes long. Chris Marker's film said it all about the persistence of memory in the face of the nuclear holocaust—this, even before it was remade as the movie and TV show 12 Monkeys. Thus, the various animation, music video and live action directors at this day-long fest demonstrate the importance of brevity in playful music videos, as well as calling cards from young animators stretching their wings.
"My Life on Mars" by French animator Nölwenn Roberts has a charming approach to retro-futurism. It's a quick profile of a working stiff on the Red Planet—strap-hanging on the subway to work, watching a group of soccer players in space suits on TV, and trying to find a little relief at a holodeck, which keeps getting interrupted by commercials (in this case a waif with a ukulele singing "Buy, buy, buy.") It certainly looks like something Roberts could fill out; she has the dimensions of a world sketched out, and all that's wanting is a plot.
Favorites here were the Czech stop-motion animation, "Running Sushi," by Stepan Etrych and Jan Petrak, visualizing an Olympic track and field event in which pieces of nigiri sushi are competing. The agony of defeat is part of it, as when one piece misses a hurdle and crashes into a trough of soy sauce. If that makes you hungry, Adam Tarrush's "Game" will change your mind with a post-apocalyptic trio teetering on the edge of cannibalism.
After this fest comes the ninth annual Silicon Valley African Film Festival. Held Oct. 5-7, this three-day, 74-film event is at the Hoover Theater in San Jose. It opens with Pile ou Face (Heads or Tails) by Morocco's Hamid Zaine. Events include receptions and a visit by Susan L. Taylor, former editor of Essence magazine. Offerings include Iya Tunde, about Germaine Acogny, a French-Senegalese professor of dance crossing into her 70th year. Patrick Kabeya's Congo: A Political Tragedy, chronicles that infamously misruled nation. Marie-Madeleine: A Female Chief observes the rare enthroning of a woman as the chief of a Cameroonian village. Nigerian documentarian Toyin Ibrahim Adekeye's Bigger Than Africa investigates an interesting anthropological question. Countless African nations were drained by the slave trade. Of this tragic diaspora, why was it that the Yoruba customs persisted in the New World, more than the rituals and arts of any other culture?
The San Jose International Short Film Festival celebrates its 10th anniversary when it runs Oct. 11-14 at the CineArts at Santana Row. There will be 150 films to view, including in programs carrying a soft-R rating to kids' shows.
Then, the following weekend, the 27th Annual Silicon Valley Jewish Film Festival begins its month-long run—variously at the Saratoga 14 and the Oshman Family JCC in Palo Alto.
Opening night, Oct. 14: Sammy Davis, Jr: I Gotta Be Me. Manny Davis, Sammy's son, will be on hand for this look back at the world's most famous ger (it means "stranger" in Hebrew, but it's the word for a convert to Judaism). The incandescent performer who overcame racism by the force of his talent persists as one of the most beloved entertainers of the 20th century.
Jewish film festivals always have a lot of latitude—a diaspora culture means films from around the world, as we see with the SV African Fest. But nothing's quite as universal as the UN Association Film Festival, opening Oct. 18. Run by a body that seeks to advance the aims of the United Nations, this spectacularly rich and diverse fest has as its theme "Tomorrow?" As in, will there be one?
It's the same question science fiction tries to answer, but this cornucopia of documentaries—both short and long—digs into the facts instead of the fantastical forecasts. More about this coming up.