Movies
Review: 'Fences'
Denzel Washington shines in his adaptation of this Broadway classic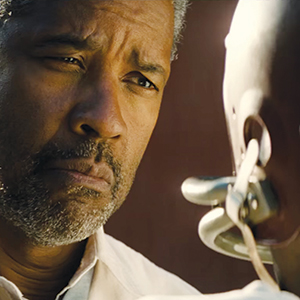 Troy Maxon is a 53-year-old Pittsburgh garbageman. In his earlier years, he was a Negro League player on the Homestead Grays. He'd hit seven homers off Satchel Paige himself. Roberto Clemente is starting to make a name for himself on the Bucks. But the desegregation of Major League Baseball is no consolation to the protagonist of August Wilson's Fences—directed with surpassing power and precision by the man playing Troy, Denzel Washington.
This particularly acute study of a man whose life slips out of his hands isn't a one-thing-after-another melodrama. Wilson's script shows Maxson on a series of Friday nights, when the man is exulting, full of payday bluster and a little gin. "You got more stories than the devil got sinners," says his best pal, Bono (Stephen Henderson).
For a tragedy, Fences is often at least as much fun as The Honeymooners TV show. Troy is exuberant. He's rising. It's not so bad for him. Troy has a house, a backyard, a union card. He has a wife of 18 years, Rose (Viola Davis, brilliant) whom he loves, in his own fashion. A man who is denied respect in the public sphere, he demands familial respect at the cost of everything else. He describes penetrating Rose as "blasting a hole in forever." It's sex and love as annihilation; it's not affection Troy seeks, it's oblivion.
Washington won a Tony in 2010 for reviving the role of Troy, which James Earl Jones originated in 1987. But it's thoroughly adapted from its Broadway source material. It's not a bludgeoning, oversized performance. When he goes big, hollering like Tarzan, or chasing his flustered wife around the porch, it's in contrast to the intimate, homicidal hiss of Troy laying into his son, Cory (Jovan Adepo), harassing him like a drill sergeant. Troy crushes his son's dreams, as a way of "learning" him, toughening him up. Satisfyingly, this doesn't "make a man out of him"; when Cory finally becomes a man, at the end of the movie, the marks of the spirit-crushing still show.
Maybe the production design softens the edges. Fences is set about 1955, with a coda in the early 1960s. We're looking into what is now the long past, and it's gilded and misty. Aside from excerpts of period music, such as Little Jimmy Scott's "Day By Day," Marcelo Zarvos' soundtrack is orchestral, more Max Steiner than R&B. Neighborhood kids play stickball in the streets, and the PPG tower is half-visible on the cloudy horizon. The skyscraper looks exactly as it was designed to look, like a Gothic castle. In the distance, you can hear the sirens announcing the changing of the shifts at the factories. In Charlotte Bruus Christensen's cinematography, the weathered bricks in the Maxsons' backyard are welcoming, with soft, varied hues and textures, creamy pinks and carmines. It's not what you'd expect from a ghetto—it's charming.
But when your inner landscape never changes, what do surroundings matter? Troy's damage is already done, and it's irreversible. Washington has been doing dutiful, strong-silent sullen-hero work lately. His Oscar-winning Flight was a respectable drunkalogue but not very interesting. He takes up Fences fresh off his role as the stolid ringleader of the Magnificent Seven—as dust-proof and bulletproof as a 60-ish movie star could be. His Troy Maxon breaks away from this commercial work. It's the performance of the year, and maybe the performance of Washington's career.
As a play, Fences has its downside—Gabriel (Mykelti Williamson), Troy's brother, is a holy fool character. He keeps wandering in, raving about heaven's gates. Gabriel is a benign counterpoint to Troy's own celestial fantasies of besting the devil and wrestling death; it is a fanciful, repetitive performance.
Three brilliant acts are followed by a very conciliatory coda, with the assurance of heaven. Maxson is a character of prime importance in the American theater, up there with Stanley Kowalski and Willy Loman. You can tell that these are Wilson's influences. (Troy even yells for his wife like Stanley yells for his Stella). The model for the self-taught Wilson's ending is probably the closing of Uncle Vanya, promising peace to the misbegotten, the dispossessed. It's hard to swap this promise of mercy in the sky for the last we see of Troy: ruined but defiant, shouldered bat, game face on, waiting for the pitch.
Fences
PG-13; 138 Min.
Valleywide