Movies
Frances Ha
Director Noah Baumbach's Frances Ha makes a new kind of star out of Greta Gerwig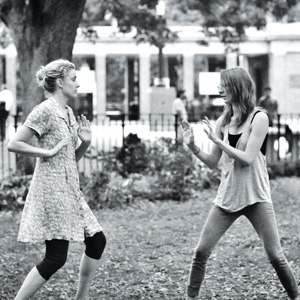 Nothing ever changes in the military, in prisons or in Bohemia. The New York girl that Noah Baumbach (The Squid and the Whale) celebrates with such robust wit, speed and delight in Frances Ha doesn't have to be likened to Annie Hall.
True, like Allen, Baumbach looks back at the French New Wave, helping himself to Georges Delerue's soundtracks for the films of that era and photographing his collaborator, lead actress and girlfriend Greta Gerwig, in radiant black-and-white.
It's true that Frances is, like Diane Keaton's Annie, one of those people born without that little switch on the throat that stops us from saying everything we think. Like Annie, Frances doesn't know what she thinks, anyway, until this instant she's just heard herself saying it. And the situation worsens when she drinks. But this kind of blurting is an eternal quality among young women orbiting the art world.
During this 27th year of her life, Frances' shield is her dependably plain ex-college pal Sophia (Mickey Summer). She's a lean, sharp-featured woman with a pair of spectacles so severe that their frames seem to glow in the dark.
She and Frances are housemates and best friends forever, pledged to being "undatable." But Frances doesn't consider the problem of different personal velocities. Sophia moves up, settling in with a boyfriend she supposedly didn't like much—and it turns out that he makes serious money. Frances meanwhile gets edged out from her Manhattan dance troupe and starts taking the path of least resistance to one after another of several shared apartments.
The film's not fluffy. It notes weight of rent on prevaricating artist types with no visible means of support. And there's pretty constant class-card playing—the money woes help make Frances the awkward one among the smooth people she knows.
As New York becomes more ruthless with cash, Baumbach works among the margins left to the artists of the city: Chinatown and the untrendy parts of Brooklyn. Ultimately, our heroine makes a field trip home for a Unitarian Christmas in good old dowdy Sacramento.
You don't often see movies now about women who are friends—"We're like a lesbian couple that doesn't have sex anymore." The way Gerwig and Summer portray their relationship, you're satisfied that there isn't any kind of spark between them, or that denying that spark is the key to Frances' "undatability." Some people are vines, and some people are trellises, and the triumph in this is that Frances only seems to be looking for someone to cling and grow on.
The movie is a love letter to Gerwig. She is the actress who made mumblecore happen. She has now been kicked upstairs to work with a director who really sees her and knows what she's capable of (as opposed to those dry experimental films with directors who sat there and waited for something to happen).
Frances Ha loves Gerwig in motion, when she dances awkwardly, leaps down a street on her way to work or rides a bike bundled up in a December day in the suburbs. The off-blonde hair and the Stanwyck contours of her mouth are celebrated, as is the unpretentious style: showing off a cure for the booze-spins and slanging it (when she hears some boy she knows say, "Ahoy, sexy," on the cellphone, Frances can't stop using that dumb phrase ironically).
Gerwig is so good that she brings out the poignancy in a whirlwind, sleep-deprivation-blighted, credit-card-financed trip to Paris, foolishly taken on the spur of the moment just so Frances can be equal to the fancy people she meets at a party.
Frances Ha makes a star out of Gerwig, and she's the kind of star we need: a goofy one we can feel tender about but never underestimate. The film ends happy, and maybe you don't buy it, but what Frances Ha says is true: people of an unusual type need to create an unusual kind of art to express themselves.
R; 86 min.