Movies
From Up on Poppy Hill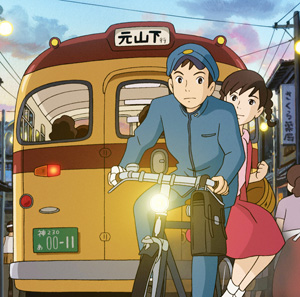 In 1963, Umi (voiced by Sara Bolger), a high school girl from the green outskirts of Yokohama, deals with life, working hard in the kitchen of her grandmother's boarding house. Her father was killed under circumstances that were probably more deeply explained in the original—this dubbed version of the feature-length cartoon From Up on Poppy Hill, co-written by master animator Hayao Miyazaki and directed by his son, Goro, has a taste of expurgation, which makes the ending confusing to Westerners.
The post-WWII relations between Korea and Japan are a loaded subject, dense with mutual prejudice. If indeed these are the details that are missing, because something is certainly missing, they explain the nature of the family secrets keeping the lovers apart. The majority of From Up on Poppy Hill is the romance between Umi and Shun (voiced by Anton Yelchin), a dashing fellow student. He has a political cause: the ancient, rickety student union called "The Quartier Latin" is scheduled to be demolished, and he and his friends want to save it.
This old firetrap is a symbol, naturally; as in so many Studio Ghibli films, the tension is between renovation and cherishing of tradition. The movie is staged during a beautifully chosen moment of transition—the months right before the Tokyo Olympiad. Goro Miyazaki was a landscape architect before (at least so he claims) reluctantly joining the family business. Watching From Up on Poppy Hill, the old career seems significant—the movie is full of vistas.
With affection and loving detail, Goro Miyazaki shows this realm behind these crossed young lovers, who navigate it on a bicycle. And there's the perfect evocative song accompanying them: "Ue o Muite Aruko" sung by the Johnny Mathis–like Kyu Sakamoto. It's best known as "Sukiyaki"; distributors correctly thought that this would be one of the few Japanese words Westerners could pronounce.
The film is bittersweet, and at its best recalls Meet Me in St. Louis. But you watch From Up On Poppy Hill and realize that a style is coming to an end. It's not just that no one is making movies like this anymore, it's that nobody is going to be making movies like this soon.
PG; 91 min.