Movies
Fruitvale Station
'Fruitvale Station' tells of Oscar Grant's final hours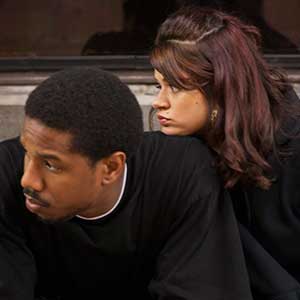 The euphemism-filled description by the publicity department, which made the slain Oscar Grant sound not just like a martyr, but a paragon, also made Fruitvale Station look like a good movie to dread.
Regular BART commuters know what it's like to fear a boarding party of pissed-off thugs, and Grant was one of a scrimmage of them following San Francisco's New Year's Eve celebration 2008-9. The accomplished Bay Area filmmaker Ryan Coogler insists Grant was far more than just a thug, and reminds the knee-jerkers that being drunk and disorderly isn't a capital crime.
As Grant, Michael B. Jordan's stunning good looks and immaculately restrained acting affects even those who don't want to be manipulated—who want to watch this story with unfogged eyes. Jordan gives us the charisma of the unlucky man from Hayward—a cherished father to his daughter Tatiana (played by a prodigy named Ariana Neal). Grant was a member of a tight yet extended family, and someone who wanted to do right so badly that he tattooed the name of his church on his shoulders. But we see the sinner in him. We meet his cheated-on girlfriend Sophina (Melonie Diaz), and hear how Grant lost his job at Farmer Joe's Market in Oakland for lateness, and then how he acted threateningly to his former manager for hiring someone else.
Jordan's acting matches Coogler's unfussy, sensitive direction. We can feel for this young man's confusion and desperation. He's running some errands on the last day of his life: bitter coincidence, it was his mother's birthday. Octavia Spencer's excellence in this role will dazzle even people who remember how good she was in The Help; there's iron-clad evenness in her voice when she uses the phrase "taking your vacations" to describe her son's period in prison. And she plays the pieta scenes with wounding quietness.
Most of the film is shot on location, which make the screenplay-lab added details seem falser: the detail of Tatiana having a prophetic fear of her father going out on the bad night, for instance.
Eventually, the movie will replace history, and critics are vague enough on that history. The New York Times confidentially describes the Oakland station as the place where Grant spent his last living minutes, when in fact he died hours later. The first festival report I read claimed Grant had been gunned down by the SFPD. I've just watched Fruitvale Station, and I'm not clear on whether it argues that Grant was handcuffed before he was shot, or (as the defense argued) was handcuffed as he was bleeding.
Coogler has a sharp, clean 90-minute film with no fat on it, but the next level up of filmmaking would have counterpointed Grant's life with the Johannes Mehserle character's night. The cop is named "Officer Caruso" and played by the Max von Sydow-ish Kevin Durand. In real life, Mehserle's own wife was ready to give birth any minute—which mirrors Grant's own life as a loving father—and Mehserle had faced an armed passenger earlier that night. "Caruso" is depicted as being horrified after the shooting. I doubt the hard-liners (who want to believe that a cackling racist executed Grant for fun) can be satisfied by the more plausible solution that in the heat of a moment, Mehserle drew a gun instead of a Taser.
But who could blame extremists? Fruitvale Station's release follows hard on the latest atrocity. Almost everyone I know has severed connections with friends who were naive enough to argue that justice was done in the Trayvon Martin case. Coogler sums up the story with a peaceful demonstration, not the nights of rage; the audience is left with their tears instead of an easy solution. Maybe it wouldn't help the greater problem, but I wonder how much it costs to rename a BART station after a person? Lessons are where you get them, from street signs, statues, monuments—and even fictionalized films.
90 Min. R