Movies
Review: 'Ghostbusters'
Reboot of classic supernatural comedy battles spectre of patriarchy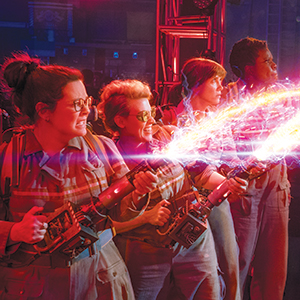 Wielding an electronic ghost detector that resembles a little rotating neon vulva, a triumphant Melissa McCarthy leads this female-powered Ghostbusters reboot. The remake clearly has a chip on its shoulder over fanboi venom. It acknowledges the "raped childhood" posts all splattered over the internet.
Learning that the Ghostbusters would feature an all-women cast, thousands of male fans whimpered about PC Hollywood. At the risk of validating the online declarations of fools, director Paul Feig includes scenes of the heroines having their ghost-hunting business dragged through the comments sections of popular websites. One troll's unimaginative jab reads: "ain't no bitch gonna hunt no ghosts".
In this round, Kristin Wiig plays Erin—an academic trying to get tenure as a physics professor at Columbia University. Her hopes are dashed after a book she co-wrote years earlier about the supernatural materializes online. The book was uploaded by her miffed former writing partner, Abby (McCarthy), who is now working at a lab in an off-brand tech school in the suburbs.
Abby's new partner is a super-scientist who calls herself Holtzmann; Kate McKinnon plays this pretty, cocky blonde weirdette as the kind of brat who puts her feet on the mayor's desk. McKinnon pulls a lot of faces to try to steal scenes from her two top-drawer comic co-stars, without much success. The trio is joined by a blustering subway worker named Patti (a lovable Leslie Jones), who saw a haunting at her station. The four team up to learn more about the afterlife. Meanwhile, a bitter and pale bellboy (Neil Casey) is trying to launch an apocalypse.
Chris Hemsworth plays Kevin, the ladies' male bimbo of a secretary. Hemsworth has provided some of the funniest moments in the Avengers series, but he's not an out-and-out comedic actor. Trying to do slapstick, he's off-putting.
The new Ghostbusters is a patchy film, pockmarked with head-scratching moments. Even to give some more time to Bill Murray, as a James Randi type, why would you accidentally-on-purpose let a dragon ghost loose? But this remake is a different kind of patchy than its popular, sloppy hit predecessor—it doesn't have the jittery, cocaine-laden quality to the writing, the dead spaces, the sudden maudlin episodes. McCarthy is a demonically talented slow-burn artist. Whenever the movie stalls, she slaps it into action.
In 1984, cinematographer Laszlo Kovacs aimed for a Transylvanian look for NYC, during a dirtier era for that city. By contrast, director of photography Robert D. Yeoman (a Wes Anderson vet) makes the movie a visual carnival. The phosphorescent green goo all over the place is matched with blazing magentas and sapphire spectral glows. The colors are bright and glittery. In the night skies, the ghosts look like the future of fireworks. The finale fight is something made to see twice and freeze-frame later, just to be able to see the multiple Times Squares of the 20th century all crammed into one time-vortex.
The kid stuff—the ectoplasmic ooze, and the dull, slimy Slimer—is counterbalanced with some subtext. These ghost-busting ladies seem to have symbols of patriarchy to fight: a killer pilgrim, and a spidery and nasty Uncle Sam on stilts. It's a pleasure to see Wiig's attractive forlornness used in the service of being a kind of superhero; she even gets to fly, Supergirl style.
The movie stalls at times, and the heroines never seem properly introduced to the villain. But there's a special tang to the film. The first Ghostbusters was about small businessmen getting over-regulated by the nosy government.
This time around, both the city and the academics are trying to shut these ghost-fighters down. But the new Ghostbusters has a different kind of point to make. In her childhood, Wiig's Erin saw dead people. She was tormented by the vision of a ghost standing in her bedroom, and then mocked when she told the story. Even in our times, it's hard for women to be believed when they're telling something that happened to them ... if we must speak of raped childhoods.
Ghostbusters
PG-13; 116 Mins.
Valleywide