Movies
Review: 'Gimme Danger'
Jim Jarmusch's new doc captures the sound and the fury of Iggy Pop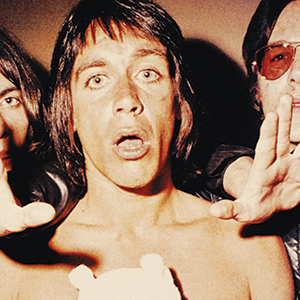 In a day and age when the first name Iggy is too often paired with "Azalea," a study of the original is more than justified. It says a lot about Iggy Pop's career that you can cut about 20 years out of it, as Jim Jarmusch did for his exuberant Gimme Danger, and still have enough material for a prime rock documentary.
Interviewed by Jarmusch, Iggy is seated in a gilded Louis XVI-ish chair, with a pair of ceramic (one hopes) skulls on nearby pedestals. He's wiry, fit, displaying blazingly white teeth for a leathery, walnut-tanned senior. Instead of his usual deadpan long takes, Jarmusch (Only Lovers Left Alive) models this study on Julien Temple's The Filth and the Fury, using found-footage: '50s civics class films, excerpts of scratchy Hollywood romances, Stan Brakhage-style abstractions of Kodachrome cityscapes, and docudrama animation to follow Pop's life as a musician.
The arc commences with the 1973 crashing and burning of the most extreme band of the era to the 2010 ratification of Iggy and The Stooges at the Rock and Roll Hall of Fame. In between, Iggy and The Stooges played Coachella with Saratoga-based guitarist James Williamson in the lineup—Iggy's coauthor on one of his most enduring recordings, released as Kill City.
The Stooges' two records on Elektra, recorded at the end of the 1960s, were not only the launching pad for punk, but—Jarmusch argues—they were experimental music. Iggy's first job was at an Ann Arbor record store, where he was introduced to the work of Coltrane, John Cage, Cathy Berberian and Harry Partch. Taken as a kid to tour the Ford Motor Co.'s River Rouge plant in Detroit, Iggy was fascinated by the KERRANG! of a metal stamping machine, and he sought to get that metal machine music into The Stooges' sound. The band whacked industrial steel barrels with hammers, and mistreated their instruments, lowering the microphone into the bell of a Victrola-like sound horn to get a roar of controllable feedback.
Born James Osterberg, Iggy was raised in a Redman New Moon mobile home—the same make of trailer Lucy and Desi shared in The Long Long Trailer—which he shared with his parents and his drum kit. ("I was lucky to live in close quarters with my parents in a quiet place," Iggy says now.) He started out playing high school dances, catching the eye with his massive drum riser, 16 feet off the ground.
Later, after he "got tired of looking at asses" from his drum throne, he turned into a vocalist and performer. His lyric-writing was based on a principle he learned from kid show host Soupy Sales, who used to ask for mail that was "25 words or less." The songs on The Stooges, Fun House and the later Raw Power always had a high ratio of aural assault to words.
Roving from Detroit to L.A. to New York, Iggy and his band moved in such high-toned circles as the Warhol crowd—John Cale and Nico were present at The Stooges' recording sessions. Iggy remembers them looking like Gomez and Morticia Addams. Yet the band never made the transition into nationwide success, as did their Elektra label-mates, The Doors. Perhaps their music needed time to sink in. These days you can't rightly call yourself a punk band until you can mangle "I Want to Be Your Dog."
Gimme Danger demonstrates reverence for a one-of-a-kind collective of musicians, particularly the interviewed Asheton brothers and Williamson. But Jarmusch overlooks Iggy's devastating Lust for Life and The Idiot, and his uneven but irresistible early '80s sound—such as "I'm Bored" and the very touching confessional "Ordinary Bummer."
One corrective: Iggy grouses about Joe Cocker's song "You Are So Beautiful" in a story about opening for Cocker in 1969; back then, Cocker was the front man for a sharp British blues band, and that unctuous Billy Preston cover was six years in Cocker's future. Some of The Stooges' music is safe enough in 2016 to use as a backdrop for luxury car commercials, but that doesn't stop the intensity and buzzsaw energy of Iggy himself. Seen live in St. James Park a couple of years ago, he was still suffused with raw power, a human whirlwind.
Gimme Danger
R; 108 Mins.
Camera Cinemas