Movies
Girl Most Likely
A girl grapples with her long past and endless future in 'Byzantium'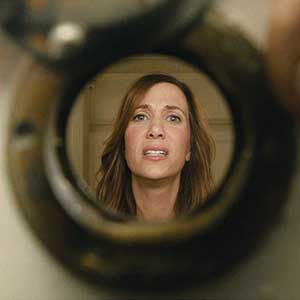 An odd, slightly off movie that's bound to be mistaken for a bad one, Girl Most Likely is a showcase for the superb comic talents of Kristen Wiig. The plot is a favorite from the 2000-teens: a child boomeranging back to her parents' house far from the big city, there falling in love with a younger waif (in this case the appealing Darren Criss of Glee).
Wiig's Imogene is a has-been playwright, voted a talent to watch in 2004; she breaks down under a series of failures and ends up stranded in her mother's living room. "You hate everything," says her negligent, kitsch-loving mom Zelda (Annette Bening). That's not entirely false. The cramped Jersey household drives Imogene nuts; packed in there with her is her hermit-crab worshipping brother, Ralph (Christopher Fitzgerald), and her mother's new squeeze (Matt Dillon, terrific), an apparently insane piece of flotsam who believes himself to be a samurai.
What's here is as brief as it is pointed, a showcase for Wiig, who gets some well-written, booze-impaired romance to light her up. Directors Shari Springer Bergman and Robert Pulcini (American Splendor) aren't set afire by the surroundings—the visuals are matter of fact, and it's only at night that the directors seem to make the tawdry prettiness in the Jersey shore locations tangible. However, their sympathies for the underdogs are as genuine as their affection for the beach-town eccentrics.
SNL sketches tend to spin on too long, and Girl Most Likely has an opposite problem: stuff that could be spun out (like a blood-freezing dinner in New York with a newly discovered relative) could have been expanded. But if people are said to brazen out a bad situation, Wiig's special gift is blase-ing out trouble. Dead drunk, caught in a gross, whopping lie, or trying to eyeball a librarian into submission while stuffing a book down her pants, Wiig puts on a ladylike, frosty front. It may be her character's name is a tribute to Imogene Coca, a deathless comedienne. The appearance by Andrea Martin in a cameo seems a tribute to another flabbergastingly good comedienne the movies never could find any work for. The undertone of Girl Most Likely is the problem of comediennes in the boy's club world of comedy; so often they're like destitute relatives, having to go where they're took.
PG-13; 103 min.