Movies
The Grand Budapest Hotel
A dispute over a rich widow's intentions, murder, fascists and a coming war
make for a lively stay in The Grand Budapest Hotel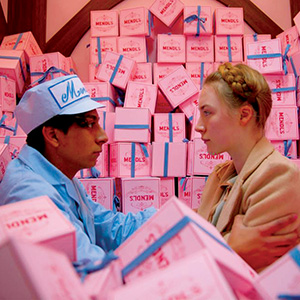 APPROACHING Wes Anderson's mostly delightful The Grand Budapest Hotel can give you the foreboding you feel when encountering the word "artisanal." It's seriously under-femaled, and it pauses to congratulate itself for its cleverness. At worst, Anderson is a director of ducky films, but this nested story of Central European skullduggery seems to have more of a spine than anything he's made since Fantastic Mr. Fox.
Anderson claims to have been influenced by the writer of Austrian decline, Stefan Zweig. I thought there was a different influence, though, by the Czech author Bohumil Hrabal's I Served the King of England. It's a tale told by the proprietor of a declining luxury hotel during the 1960s in the Slovenia-like nation of Zubrowka. F. Murray Abraham is the turtlenecked proprietor Moustafa, a man who looks as haunted as Solzhenitsyn. In a conversation over dinner, this elder tells a young writer (Jude Law) about the life Moustafa had between the wars. He was a lad (played by Tony Revolori) back when the carpets were a sumptuous imperial crimson and not a repulsive Intourist burnt-orange. In those days Moustafa was mentored by the suave concierge M. Gustave (Ralph Fiennes, terrifically louche), a heavily scented, indifferently heterosexual squire to wealthy elderly women. His oldest client (Tilda Swinton, grotesque in old-age makeup) bequeaths Gustave a valuable painting. Thus the upstart hotelier becomes involved with blueblooded fascists, including Adrien Brody, the Black Michael of this Zenda and his leather-wrapped thug Jopling (a snarling Willem Dafoe).
Jailbreaks, alpine assassination, harrowing castles and political discord make this an unusually ripsnorting Anderson film. Far more like him are his asides: mentions of a far-off land called "Dutch Tanganyika," rides on the trams of the gloomy capital city, Lutz, and a visit to the Bureau of Labor and Servitude. It doesn't seem to be all about the art direction. Anderson styles his productions American Empirical, and he finally seems to have a fully running studio: a script department, a tabletop special effects lab, a first-rate music department and a stable of actors, including an artistically disfigured Saoirse Ronan, Harvey Keitel as a bald convict and Jeff Goldblum, in spectacles that make him look like Sartre.
R; 99 min.