Movies
Review: 'Green Room'
Punk band battles Patrcik Stewart and neo-Nazis in this hillbilly hostage flick.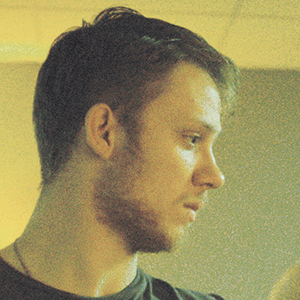 Writer-director Jeremy Saulnier's indie thriller Green Room is about one of those scenes that never changes even as the years go by, like prison, the military or academia. Still, the new film by the director of the expert noir Blue Ruin seems as if it should have been set 1987 or so.
There is still enough of a punk music scene in 2016 to permit a trad punk rock band to drive an Econoline van from gig to gig. And likely, there's still a quantum of racist skinheads still fouling what's left of that scene. There are excuses in Green Room's script made for why the musician protagonists don't have an online social media presence. There is also a lot of extraneous business about cell phones that get broken or don't work and don't figure into the plot. The movie would have worked better in the lonelier days before constant electronic communication, but it also would have cost more to make as a period piece. Finally, Green Room gets into its groove as a punk rock hostage situation, a crisis facing a quintet of people who only dress as if they're tough and feral.
The Ain't Rights are a four-piece punk band from D.C. ('Actually Arlington' they explain in an interview with a music journalist). They're touring the Pacific Northwest, running on siphoned gasoline and surviving the kind of shows where the payoff is a free lunch and $6.78 each. In Astoria, Oregon (called 'Seaside' in the film) a fan and show promoter tips them off about a forest roadhouse where they can play. 'It's a boots and braces crowd,' he warns. Sure enough, the blockhouse-like club is full of white supremacists with Bic'd skulls.
After provoking the racist audience with a cover of Dead Kennedys' 'Nazi Punks Fuck Off,' the band returns to the green room to find a freshly dead girl with a knife sticking out of her temple. Nearby are a pair of louts: Big Justin (Eric Edelstein) and the dead-faced and enormous murderer Werm (Brent Werzner). Also on hand is Amber (Imogen Poots), an undersized girl with a patchy Chelsea haircut. She saw the killing, and thus she knows she's done for.
As witnesses to the crime, the band can't be allowed to leave. That's when the club's owner—the ringleader of a secret backwoods drug operation—arrives. Darcy (Patrick Stewart) has to reluctantly fix the mess; his plan is to kill the band, tear up the bodies with pit bulls, and tell the cops the strangers were intruders looking to steal gasoline.
Nazis make peerless villains—one of the white supremacists has a tiny swastika tattooed on his cheek, like a beauty mark. The problem is to not let them speechify too much. Stewart's air of regret and lack of dogma marks him as the fiercest man around. An exchange between Stewart's Darcy and a survivor of the rampage: 'It's been like a nightmare.' 'For all of us,' he answers.
Not every actor could make that regret seem plausible. Bearded with Lenin-like spectacles, Stewart brings depth to this commercial kind of movie. He's quiet, but he's quite formidable—you have no doubt he could keep his warriors in check, even the personal guard of killers to whom he awards red bootlaces as a badge of authority. When Darcy makes an aside about 'that boot party last year' it's a little scarier imagining it than actually seeing the stomping in question.
Amber and the band of four turn out to be harder to kill than they looked. Drummer Reese (Joe Cole) knows some martial arts; Pat (Anthon Yelchin) gets his arm chopped up but duct tapes it back together. The intrepid female guitarist, Sam (Alia Shawkat), makes an improvised spear from a fluorescent light bulb. We can expect Shawkat to survive—and not just because she's a girl and girls always make it to the end of horror flicks. Here, the actress who starred as George Michael's cousin in Arrested Development and once played Ilana's lookalike hookup on Broad City, seems as tough and lowdown as Michelle Rodriguez.
This is lesser Saulnier, for all the slow aerial shots that make this lonely forest look like a green hell. He doesn't set up the surprise motive for the murder coherently—we have to put it together ourselves. (It's a movie that'll make more sense on repeat viewings.) Nor does he come up with a twist finale. Still, Green Room is a strangely involving as any movie contained by the bloody hillbilly-attack genre. Mostly, it's a credible daydream of a tour gone wrong: a movie about the punk rock life, rather than a thriller with punk rock sauce dumped over it.
Green Room
R; 95 Mins.
Camera 12