Movies
Review: 'High Rise'
A dystopian apartment complex becomes a metaphor for modern life.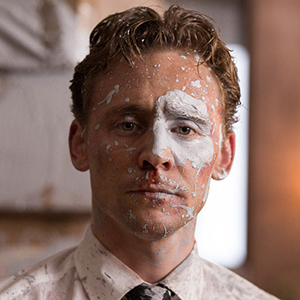 What turned a fussy London docto—slim, white-clad, and, as they used to say, uptight—into a filthy barbarian, whom we meet spit-roasting a haunch of dead cat over an open fire? We find out in Ben Wheatley's adaptation of J. G. Ballard's 1975 novel High-Rise—immaculately visualized with Kubrick-like attention to detail and art direction, and accompanied by a thundering score. Wheatley keeps the book's 1970s setting, lampooning England's descent into humiliation during a decade of strikes, shortages and power-outages.
On the edge of London is a 45-story residential complex made of brutal concrete. Brand new, it's already showing signs of rot. The new tenant is the reticent Dr. Laing (Tom Hiddleston). He's a brain specialist, much of whose work seems to involve taking a bone saw and a cold chisel to severed cadaver heads. Off duty, his life is all about punishing exercise in the buildings' gym, and shopping in the tower's coldly generic supermarket; the boxes on the shelves might as have the word "PRODUCTS" written on them).
Laing is drawn into the lives of the people below and above him—particularly the shamelessly promiscuous lady one floor up (Sienna Miller). In the penthouse, Laing encounters the crippled, white-clad architect of the high rise, who is significantly named "Royal" (Jeremy Irons). Mrs. Royal (Keeley Hawes) tends a sky-garden that's tricked out like Marie-Antoinette's crypto-milkmaid cottages at Versailles. (In case we don't get it, the rich throw a Louis XV themed costume party later on).
The building seems to be disintegrating from the base up; the lower floors, where the proles live, experience frequent blackouts and bad plumbing. The working class has more zest for life, but their parties get out of bounds fast. Laing is menaced by a thuggish filmmaker (Luke Evans, in an Oliver Reed part) and strangely attracted by the filmmaker's vastly pregnant wife (Elisabeth Moss from Mad Men, using an unimpeachable British accent).
High Rise is a satire chilled so cold it can barely be tasted. It's one of those works of futurism that seems simultaneously very prescient in its time, and slightly dated in ours. It underscores its points with a yellow highlighter. One suspects High-Rise's most lasting effect will be to give overbooked college students a way to avoid reading the novel.
High Rise
R; 1hr, 52 min.
Opens Friday at Camera 12