Movies
Review: 'I Do ... Until I Don't'
Lake Bell shines in indie comedy about the monotony of matrimony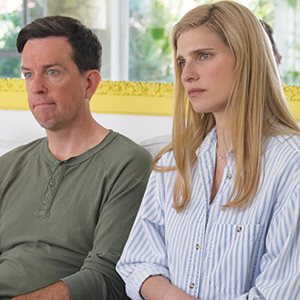 Lake Bell is the funniest lady in the Sarah Silverman vein who isn't actually Sarah Silverman. The lanky woman's face is good for comedy, given her wide mouth and her big clouded brow; anxiety radiates off of her like waves from a radio tower. Memories of Bell's performance in the 2013 indie comedy In A World might be enough to cause you to risk a title like I Do... Until I Don't.
Happily, I Do... Until I Don't is better than it sounds. The ensemble here, a good one, is held together by a mean, horsey British anthropologist, Vivian Prudeck (Dolly Wells), doing a BBC documentary on the failure rate of American marriage and how contractual seven-year liaisons might make more sense, given longer life spans. Frustrated with the kind of uninteresting couples she's running into in the alterna-Florida of Vero Beach, Vivian tries to shake things up. She pushes the paid subjects of her documentary to get results. The marriage of Harvey (Paul Reiser) and Cybil (Mary Steenburgen, at last given something to sink her teeth into) seems to need only a slight jostling to shatter.
Cybil is pretty much done with him, and does passive aggressive things like giving him a certificate at a happy-endings massage parlor so that he can go get his anniversary sex taken care of there.
For yet more dysfunction we travel to Alice (Bell) and her husband, Noah (Ed Helms). Surely, in real life, Helms is a jaguar in the boudoir, but here, as in The Office he excels in playing the "before" picture in a Viagra advertisement. Moreover, it's mandatory coupling time because they want a baby—there's something about clock-mandated "results-based" intercourse that dismays even the most ardent lover. Noah and Alice's blinds business is dying horribly, and Alice's own despair is complicated by the certainty that her openly polyamorous sister (Amber Heard) wants to sleep with her husband.
This Vero Beach, with its jungly backyards and sun-flooded ranch houses, makes a fine change for where it probably would have been shot in L.A., Venice Beach—there's a lot more room for lazing and stalking here. Something funny happens every other moment, from Steenburgen's ominous scowl—what a Nancy Reagan she'd make—to the bits, pieces and rejoinders. When a pervy performance artist named Egon tries to interest Vivian in erotic art: "Begone, Egon." "Namaste." "Nowmustgo."
I Do ... Until I Don't
R; 103 Mins.
Saratoga 14