Movies
Review: 'I Feel Pretty'
A minor fable with the major Amy Schumer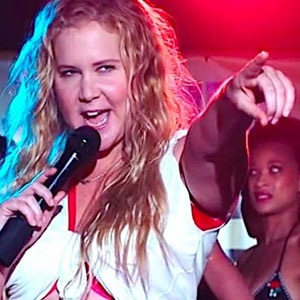 A minor comedic fable about the power of body image, I Feel Pretty by first time directors and long-time rom-com writers Marc Silverstein and Abby Kohn has a couple of worthy assets. One is Michelle Williams, robustly funny as Avery LeClaire, a painfully shy heir to a cosmetics firm who has been cursed with a baby voice. The other is Amy Schumer as Renee, a singleton of Manhattan enthralled to the beauty myth.
Renee thinks she's a gross fat pudding, surrounded as she is by haute-couture gazelles on the streets and in the gym. She prays hopelessly for glamor. Knocked cold in a spin class accident, she wakes to believe that she's been gifted her heart's desire to be drop-dead gorgeous. The artificial confidence lands her both promotion and a quite-nice boyfriend Ethan (Rory Scovel). It also goes to her head; she starts considering herself a supermodel and gets so horribly conceited that she alienates her best friends (SNL's Aidy Bryant and Busy Phillips).
During the ingenious episode-long parody of 12 Angry Men on Inside Amy Schumer, one of the jurors described Schumer as "a quirky dump truck." Angles here make you wonder what Schumer is moaning about. Her big legs are impressive in alarmingly short skirts. She storms a bikini contest, pulling her clothes up so the guys can get teased with her ass-antlers tattoo, flaunting her alluring plump belly as if it had muscles that could turn a bullet.
One loves her honest slobbiness, passed out after too much wine with a hank of ramen hanging out of her mouth. And there's a bedroom scene of some skill—there's enough gold in Schumer's hair and glow in her skin that the reflected light warms the room. Photographer Florian Ballhaus (The Devil Wears Prada) gives Schumer's Renee grounds for feeling pretty, as well as reason for her insistence that she wants the lights on during sex. Like common sense, common self-confidence is in far too short supply.
As the flute to Schumer's brass, Michelle Williams kills it. Overmedicated with tranquilizers and requiring rest, Avery waves Renee away as if it took her last ounce of strength on her deathbed. Williams is better here at being Marilyn Monroe, during one of Monroe's late-period shot-nerves roles, than Williams was when she was actually playing Marilyn Monroe in a biopic.
I Feel Pretty
PG-13, 110 Mins.
Valleywide