Movies
I Give it a Year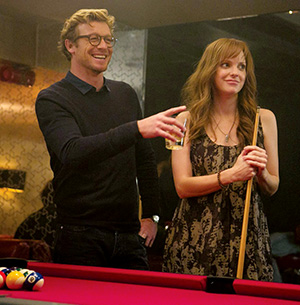 The success of the comedy I Give It a Year—the directing debut by Da Ali G Show writer Dan Mazer—is likely due to the way it gives credit to folk wisdom about marriage: that the 50 percent of marriages that survive divorce last because of forces like pity, guilt, mutual antagonism and unquenchable lust. Mazer revels in the surface elegance of expensive London, so fancifully swank that we can enjoy it instead of being grossed out. Mazer doesn't lose track of how the other half lives: one character says he's ready for lunch and that he's starving to death, and then he's startled into guilt by noticing a poster for African famine relief hanging in his office.
The film concerns the fast courtship and appallingly expensive nuptials of struggling writer Josh (Rafe Spall) and ad-agency executive Natalie, called Nat (Rose Byrne). The wedding cake is barely stale before the two are distracted. Nat's new client is a handsome American prince (Simon Baker) who owns a bleach and solvent business. Meanwhile Josh at long last notices his ex, Chloe, who is loving longest when all hope is etc. She is played by the one and only Anna Faris. How gratifying to see Faris in the hands of a director who appreciates her—her paleness and her one-beat-too-slow reaction here recalling Steve Martin at his best. Her best scene is throwing herself, more or less willingly, into the scrimmage of a three-way. American comedies decide that these kind of things are gross and perverted; British comedies decide instead "They'd be great if only they worked as well as you imagined."
The movie is for people who smile at civilized comedy but who really bust a gut at Viz comics. The raunch here is hilarious in a way it isn't in the frat-packers. Mazer provides crisp direction on old-favorite farce scenes: the awful insurance man, the far worse therapist, dirty charades, the vacation snaps that turn pornographic. Byrne is often an outstanding straight-woman (her air of tragedy helps) as when a romantic dinner augmented by trained doves turns into an outtake from The Birds. I'd give I Give It a Year 90 minutes and $12; with its inspired finale on the Eurostar platform, it makes the adult things in life look sophisticated instead of puerile.
R; 97 min.