Movies
Review: 'Inferno'
Tom Hanks shines, as always, in an otherwise tepid film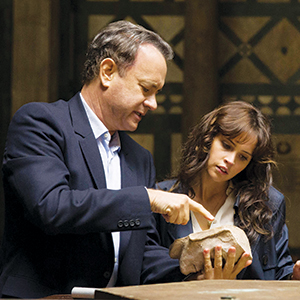 It's weird seeing Tom Hanks trying to emote so seriously in Inferno after witnessing one of his finest performances ever, as David S. Pumpkins, on the SNL sketch "The Haunted Elevator." In the hilarious skit, Hanks' grimacing loon of a song and dance man, is clad in a squash-themed wardrobe, flanked by fluff-topped b-boy skeletons. Pumpkins is fatuously confident—a celebrity in his own mind.
There is no dancing, unfortunately, in Hanks and Ron Howard's follow-up to The Da Vinci Code and Angels and Demons. Inferno is more interesting than its predecessors, though it's just as preposterous. Our two-fisted symbologist Robert Langdon (Hanks) is struck with amnesia after taking a bullet to the head. He wakes up in Florence, tended by a British physician—a prodigy of art history and medicine, Dr. Sienna Brooks. She's played by Felicity Jones, with the antiseptic, no-nonsense quality of Julie Andrews in the spy movies she occasionally made.
The trickery begins early, with an opening grabber: a man named Zobrist (Go Cubs!) is cornered atop a high Florentine tower, and he leaps for it. In life, Zobrist (Ben Foster) is a zillionaire with an agenda. The dead plutocrat and TED-talker wasn't just concerned with overpopulation, he was actively working to correct it—using his wealth and smarts to cook up a diabolically deadly bio-plague that'll make some much-needed elbow room on this planet.
The plot gets thicker with the introduction of a SPECTRE-like "security group," headed by Harry Sims (Irrfan Khan), as well as investigators from the World Health Organization. All seem in pursuit of the same deadly vial, and Langdon has to parse egregiously written clues concealed in objets d'art to find the virus where it waits in its final UNESCO world heritage hiding place.
Unlike the first two Dan Brown adaptations, Inferno doesn't confront religious belief—except maybe to please the kind of audience so opposed to population control that they think condoms are tantamount to genocide.
The conspiracy is as essentially secular as the evil scheme in a Bond movie, though the 007-style components and scenery changes here don't really fit together. Inferno may be twistier, faster, and less smothered with details than the first two Brown adaptations. But it's always on the edge of real fun, and it never crosses over. Howard tries to keep it realistic when it might have been better to go crazier and richer.
The second-unit cityscapes have a smogged realism to them—they don't have the menace and the glory of the cityscapes in Bond movies. The direction is unusually jagged and stuttery for Ron Howard; you'd almost credit the movie to Tom Tykwer. Happily, David Koepp is the writer this time, not series regular Akiva Goldsman, a stand-and-deliver exposition scriptwriter of maximum stasis.
Howard goes to particularly crowded European destinations to prove the germ-warfare wielding villain's point: the Plaza San Marco in Venice, the palaces of Florence, and the Hagia Sophia in Istanbul swarm with mobs of tourists. Still, despite Ben Foster's impeccable moist-eyed fanaticism, wouldn't this "herd-thinning" (as Zobrist calls it) be an older man's insane scheme? Humans in their 50s remember the world as it was a few billion people ago, and might be more inclined to recreate it. And there's a passing swipe at young people by Sims, about how people don't become interesting until they're 35; this, in a movie cut as restlessly as a Bourne film, aiming to please a young audience.
Certainly, Hanks is far more interesting now than when he was on the sunny side of 35. If he's eminently trustworthy, Hanks is also slightly frail—he's not the kind of action hero you want to see knocked about.
Inferno has a spurious Dante quote in it—the hottest place in hell is reserved for people who fabricate quotes, or words to that effect. When watching Hanks here, and as the weird Pumpkins, one thinks of another quote you could bend. It's something said about God watching humanity: we respect Hanks when he works but love him when he dances.
Inferno
PG-13, 121 Mins.
Valleywide