Movies
Review: 'Infinitely Polar Bear'
'Infinitely Polar Bear' is fun, but has more Sundance quirk than actual substance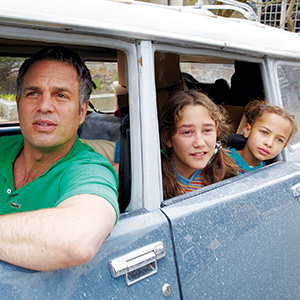 Three different styles of acting bash it out in the hard-to-believe Infinitely Polar Bear—and if you think the title sounds like the most labored Sundance fair, you're not wrong. Mark Ruffalo chews into the role of Cameron Stuart, a manic-depressive from a conceited Boston Brahmin family (his grandfather sat for a portrait by John Singer Sargent). He's idling his way through the late 1970s as Mr. Mom.
The daughters, for whom he's acting as a loco-parent, are Amelia (Imogene Wolodarsky—a plump adorable lass of the Abigail Breslin line; and her younger sister Faith (Ashley Aufderheide). The two actresses have an edge of desperation—they shout in perfect unison, like they're trying to hold their own against Ruffalo's shifting, twitchy performance.
The third style belongs to Zoe Saldana's Maggie, who is always perfectly made up, like the mom in a 1950s sitcom. She's unflappable and always knows best. Maggie sets Infinitely Polar Bear's plot in motion when she decides to leave her children with a still-fragile Cameron while she takes an 18-month MBA crash course at Columbia University in New York.
Saldana performs Maggie as an honorable, aspiring woman, and there's no shading or selfishness to the part. When she gets there, she'll be the least venal trader in the history of Wall Street. She considers it cute when her husband (whom she has cut off from sexual relations) gets fresh with her—he takes the rebuffs in comic spirit, without resentment.
We're assured that Infinitely Polar Bear—the title is a pun on Cameron's bipolarity—is based on the true story of director and writer Maya Forbes. An Exeter and Harvard grad, she's from the old-money Forbes family of Boston. There was money in her family, but because of a trust fund that her beleaguered father couldn't cash in on, Maya had a childhood of Section 8 housing in Cambridge.
It'd be a rare pair of children who didn't resent their mother leaving them. But we have those children here. They get swearing mad at their father—countering his own raving and tantrums. The fights end, we get back to square one, and the scenes start over again: 8mm flashbacks set the stage for the late '70s; director of photography Bobby Bukowski insists that the cherry blossoms were pinker back then. The most evocative parts of the film come in the form of the rust-bucket, trouble-prone junk cars, which Cameron keeps buying.
At times, you feel this movie could be something if it had a point of view. What if this plagued father had been seen from a more acute angle: from the narcissistic, frightened, and, most of all, merciless eyes of a growing girl? This is more like family life remembered after years of therapy. Forbes' take is anecdotal, and pre-sweetened—Infinitely Polar Bear is shaped for the network TV audiences' perspective. People enter the scene and do something cute. There are even wacky neighbors in the movie: people in the apartment building who are nervous around Cameron when he's getting stirred up, bursting with friendliness because he's off his lithium.
The soundtrack of old time music loans this movie some integrity—as when Amelia is walking through a derelict neighborhood in the rain to get to her dad's halfway house, as Mississippi John Hurt's "Stack O' Lee Blues" plays in the background. And in the early scenes, when Ruffalo's Cameron is dwelling in a halfway house, he evokes the sadness and weariness of the illness. That sorrow is seen later when Cameron is smoking cigarettes, lying on the sofa, crushed beer cans nearby, waiting, waiting and waiting to get well.
But the other side of the film is wacky: Cameron in green shorts and shirt, as if he were Peter Pan, sprinting after Maggie's car, or slapping on a funny hat in the last shot. Ruffalo under full steam is something to see. Watching him talk around a cigarette you're reminded of the grit and the humanity that made people love Peter Falk. I'd rather see Ruffalo in a bad movie than not at all, but the way this is conceived—as a story of a crazy man as a big kid—it's the kind of role that bored Robin Williams to death.
R; 90 Min.