Movies
Inside Llewyn Davis
The Coen brothers' latest film revisits the 1960s folk scene
through one troubadour's troubles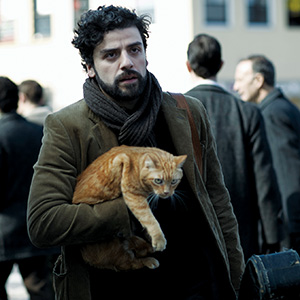 You were expecting A Mighty Wind, maybe? Llewyn Davis (Oscar Isaac) is homeless in winter 1961—a couch surfer especially unappreciated by Jean (a fundamentally miscast Carey Mulligan), the girlfriend of his buddy Jim (Justin Timberlake).
Jean is pregnant after a misspent night with Llewyn, and she hates Llewyn for it. Davis is making a few dollars here and there playing trad folk at pass-the-hat "baskethouses" in Greenwich Village. Sometimes he goes uptown and crashes with his old professor. But this situation takes a toll when he loses his host's cat. (Evocative animal, this big orange tom: he stirs up memories of films about rootlessness, such as Breakfast at Tiffany's and The Long Goodbye.) On a spur-of-the-moment trip to Chicago to see a promoter, Davis tries to escape his personal hell as well as the memories of a long-gone partner he once had.
There are numerous moments in Joel and Ethan Coen's films that are too sad to think about: the statue of Paul Bunyan in the snow in Fargo; Mattie Ross in True Grit's farewell to the outlaw Frank James, "Keep your seat, trash"; the parable of the dybbuk in A Serious Man. Inside Llewyn Davis is maybe their chilliest work. Bitter can be good. The film is intelligently anti-nostalgic—even if the Village really looks like a snowbound village, it makes you not want to go back to the 1960s. Like TV's Mad Men, it makes you remember what a tightly run, unsparing place JFK's America was. Bruno Delbonnel's dove-grey photography puts a halo of frost on New York. But the Coens' usual depth of frame is lucid as always: a vast turnpike eatery with miles of snot-green tiles, or an apartment hallway that disappears into a slapstick-brutal angle of two apartment doors.
T-Bone Burnett, who assembled the O Brother, Where Art Thou? soundtrack, collaborates with the Coens once again. As a musician, Isaac is sensationally watchful and sympathetic, even playing a seething man who doesn't give up much. He pours full tragic force into "Death of Queen Jane," the ballad of Jane Seymour's demise in 1537. But his Llewyn also plays along on a lovably goofy novelty song about John Glenn's then-upcoming rocket ride.
The singer Dave van Ronk's autobiography, The Mayor of MacDougal Street, was initially claimed as the source for this film. The singer denounced the earless, drunk "clydes" and "burbies" that infested his scene. The fans are not the problem here. Inside Llewyn Davis is the tragedy of a folk-singing Job, but it has its funny side. The humor isn't just in easy, dumb gags, like having a middle-aged intellectual (Robin Bartlett) yell the word "scrotum." The most deadly wit comes from Davis' co-passenger on the Chicago trip, a fountain of bile named Roland Turner. John Goodman is once again the Coens' wrecking ball swung against an unoffending wanderer. Turner's speech about the power of black magic is one of the most baleful moments in the Coens' catalogue.
Watching Inside Llewyn Davis, some will shrug, as F. Murray Abraham's promoter Bud Grossman does, and say "I don't see a lot of money here." This striking and melancholy film begs the question of where the money is today, though. Burnett's afterword to the published screenplay points out "we're being told now that artists are to crowdsource their work, that artists are to follow the crowd rather than lead the crowd. Well, there's no artist worth his salt who will follow the crowd." As the rock musician David Lowery has been noting online, digital reproduction is bleeding royalties from musicians and writers. Davis' plight mirrors the thwarted talents of today: circumstantial failures, not deluded failures.
Turner—named after the jesting Turner in the film Performance?—imitates a victim of the voodoo he knows how to work: "I just can't make anything come out right. My life is a big bowl of shit. I don't remember making this bowl of shit." Inside Llewyn Davis isn't cuddly, but it's loaded with soul. And it's one memorably harrowing look at an artist pushed to the point of oblivion by scorn, misfortune and the iron hand of the market.
105 MIN.; R