Movies
Review: 'Intolerance'
Though groundbreaking, D.W. Griffith's apology for 'Birth of a Nation'
was mostly overlooked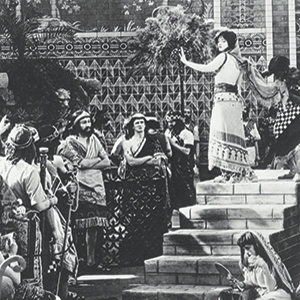 Nate Parker's Birth of a Nation, opening in October but already a cinch for the Oscars, will draw attendees who certainly won't decode the title's reference. Parker's story of the American avenger Nat Turner appropriates the title of D.W. Griffith's 1915 Civil War epic.
Birth of a Nation was cinema's first blockbuster. Even in 1915, there were those who objected to Griffith's vile racism, his use of a rape threat in a scene between an actor wearing blackface and a white Southern belle. If crowds mobbed this epic, there were sizable public protests, and cities that banned it outright. Birth of a Nation celebrated the Ku Klux Klan. The film's success legitimized those Christian conservative terrorists, who came to political ascendency in the 1920s.
And yet the audacity and technical mastery demonstrated by Griffith and his cameraman Billy Bitzer are thrilling. The collaborators pioneered the art of direction: pointing an audience's attention to a single element in a crowded frame; winging them to several locations; giving them a sense of God's-eye scope. It's almost enough to overcome the stink of the material.
This shadow over Griffith may be the reason why the Sept. 5 centennial of Griffith's ambitious follow-up, Intolerance (1916), seems so little marked. Here was a multi-planed story of four chapters in world history, demonstrating the ruin caused by the human inability to tolerate differences. This epic pioneered dozens of cinematic innovations, from false eyelashes to the crane shot. It was executed with a camera that was little more than a wooden box and filmed mostly in natural light.
"A Sun-Play of The Ages," Griffith called this solar-powered masterpiece. It brackets the tales of Jesus' Palestine, a 1916 labor rebellion, the fall of Babylon, and the St. Bartholomew's Day Massacre. It's a mammoth epic, alive with sudden adroit surprises, such as the quite wrenching story of a self-sacrificing Babylonian woman warrior (Constance Talmadge). The vast canvas is held together by sequences of a Mother (Lillian Gish) rocking her baby throughout the ages, as the Three Fates watch in the murk behind her. Griffith kept this massive project in his head, without a script. Intolerance was thought of as Griffith's apology for the racism of Birth.
Actress Gish's memoir argues against that point. In her view, Griffith had nothing to apologize for. She thought the "Intolerance" of the title referred to the intolerance of those who misunderstood Birth in 1915 as a racist film.
When celebrating epics mutilated by the businessmen, from Greed to The Magnificent Ambersons, historians remember Intolerance as a victim of the cutting room. Griffith had to slice his 8-hour film down to 2 1/2 hours. No wonder audiences of a century ago were sometimes confused.
Intolerance was not a blockbuster. Its $1.9 million cost bankrupted Griffith, a budget that included the price of the 300-foot Ishtar Gate set. This epic set is honored today in a small replica in a shopping center near the Chinese Theater on Hollywood Boulevard. It's a few blocks away from the residential hotel where Griffith died, an early casualty of cinematic obsolescence.
Orson Welles said of Intolerance that "parts were dusty even at the time, parts of it would be fresh tomorrow." Birth of a Nation 2016 has its own Victorian dust, including a final vision of an angel that would have surely have choked up Griffith. Parker, nobly trying to reboot cinema from its racist roots, now has his own scandal regarding a date-rape case in his past. As a cineaste friend observes, "Same title: one racist, one rapist."
If Intolerance is sometimes quaint, it reminds one of what cinema might do at its most ideal. Griffith's hopes for the movies are still stirring: "We have gone beyond Babel, beyond words. We have found a universal language, a power that can make men brothers and end war forever."
Intolerance
Unrated; 150 Mins.
Video on Demand