Movies
Review: 'Jackie'
Natalie Portman's performance doesn't live up to the hype in new biopic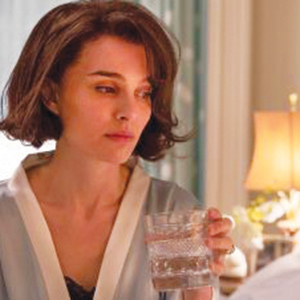 In some 2050s university class on "The Celebrity Interview as Literature," the film Jackie might get taught as an example of the push and pull between lofty subject and noodging journalist. Nothing as vulgar as spin goes on—just gentle, forceful pressure from above.
The freshly widowed Jacqueline Kennedy (Natalie Portman) is hiding out in Hyannis Port, Mass., during the cold November of 1963. A fictional reporter (Billy Crudup) who seems to be a lot of T. H. White and a little bit of William Manchester, is inquiring after her, teasing her out to talk. Ms. Kennedy tries to keep her privacy while being available to the public, as she has during the short course of her term as First Lady. She checks the protocol for the state funeral to come. By herself, she drinks, chain-smokes and listens to the soundtrack of the musical Camelot. (It was a kitschy received idea of the early 1960s that the Kennedys regime was like King Arthur's court.) Regal pride, deep shock and resentment are here, as well as private crumbling and steely poise in public.
It's hard to get into a mood of mourning and have a good wallow. What's most striking in Pablo Larrain's chilly film is how much smaller the U.S. was a half century ago, and what a different country the past was. The enclosed spaces, often in cars or planes, are broadened by Mica Levi's distinctive, not to say thunderous, soundtrack. The issues facing Jacqueline are surprising—so much depends on how Charles de Gaulle will be treated at the funeral, and it's not as if a French president would draw that much water today. The script by Noah Oppenheim is full of bad-movie prescience: "I wonder if Mrs. Lincoln knew they'd build a monument to her husband," Jackie wonders. And Peter Sarsgaard's Robert Kennedy muses whether a legacy of the Cuban Missile Crisis would be the idea that John F. Kennedy precipitated it.
A movie like this stands or falls by its lead performance. Fall it does. Portman is drastically wrong for the part. Her Jackie Kennedy recalls the old putdown, "Halloween came early this year." It's a breathy-voiced impression—something like what a very good female impersonator would do, and one look at a photo of the real woman dispels what little illusion there is.
Jackie
R; 100 Min.
Camera Cinemas