Movies
Review: 'King Arthur: Legend
of the Sword'
Guy Ritchie forges cockney swagger, multiple medieval legends; it's weird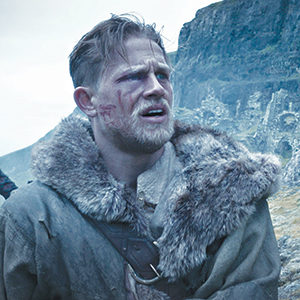 The fabled Round Table is unveiled. One of the knights of Camelot guesses what this odd piece of furniture is: "Is it a wheel of cheese?" Verily, forsooth, my lord, and ripe 'tis.
Director and co-writer Guy Ritchie, long-time auteur of head-butting cinema, loses the thees and thous in favor of a present-day vernacular—"Hands on the hilt, stupid!" the then no-name Arthur is ordered, as he prepares to grasp Excalibur. The rewriters added Moses to the story. After his father Uther (Eric Bana) is slain, baby Arthur drifts into ancient Londinium on an open boat on the Thames. In adulthood, played by Charlie Hunnam of Sons of Anarchy, Arthur is mistaken for just another whoreson bordello-protector. But his murderous uncle King Vortigern (Jude Law) must shed his nephew's blood to satiate evil spirits (a moat dwelling three-girl octopus-eel monster) to claim the destructive power of the mages.
Arthur and his street gang head into the forest with Kung Fu George, England's only Asian, played by Tom Wu) as well as the most likeably laid back Goose Fat Bill (Aiden Gillen). We go straight from King Arthur to Robin Hood. And to lead the king to be through the Joseph Campbell Memorial Parcourse, Astrid Bergès-Frisbey materializes as the pouty mage who turns out to be Guinevere. As a beastmaster with sacred snakes, she's too powerful to be kissed. She's more or less the only woman in this movie, and she keeps a good distance.
Law plays it as straight as anyone could in this dim mixmaster of pixels, this degraded mashup of superhero and sorcery movies cut like a trailer for itself, this nest of 200-foot serpents and flying 3-D shrapnel. He shows moods and regrets.
By contrast, Hunnam's look of indomitability gets a workout—it rarely changes, whether vowing revenge or being attacked by giant bats. The joke, as it stands, is that he really doesn't want to go through with it all. And you thought Zack Snyder's Superman was a mope! The cockney-dickhead approach to Arthurian lore has never been tried before, and if there's one takeaway, it's this: when one tries to outrun a famous satire, in this case Monty Python and the Holy Grail, you end up being worse off than if you pretended to ignore it.
King Arthur: Legend of the Sword
PG-13, 126 Mins.
Valleywide