Movies
Review: 'Knives Out'
An excellent ensemble cast comes together for a whodunnit manor mystery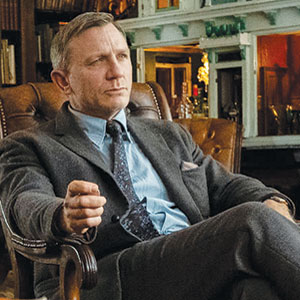 Middling, but not without surprises, Knives Out is Rian Johnson's mystery about a group of greedy heirs in ugly holiday sweaters. They're the descendents of writer Harlan Thrombey (Christopher Plummer), author of The Menagerie Tragedy Trilogy and other best-selling bafflers.
The morning after his 85th birthday party, the old man is found with his throat cut in an apparent suicide. The deceased was no stranger to the macabre. "He basically lives on a Clue board," says the investigating Lt. Elliott (Lakeith Stanfield of Sorry to Bother You and Atlanta); it's a turreted Victorian manor floating in a sea of dead leaves, with hidden entryways, creaky floorboards and sinister doodads galore. In a prominent place is a lifesize jolly-sailor dummy in homage to Sleuth, the play starring Lawrence Olivier and Michael Caine (and later, the film starring Caine and Jude Law).
Harlan's parasitic family isn't exactly weeping over the senseless waste of human life. They include designer Jamie Lee Curtis, whose business was propped up by Harlan's checkbook, and her loafer husband Don Johnson. Their son is a professional wastrel (Chris Evans handles this anti-Captain America role well). Another son is the grumbling Michal Shannon, limping on a cane; he's furious at the old man's refusal to sell his work to the movies.
Johnson's twist is that we know how Harlan died early on. Involved was his good-hearted nurse and companion Marta (Ana de Armas), but she's exempted from the line up because she had nothing to gain from the will. In addition she has a tic; she must always tell the truth, lest she vomits on the spot. (This apparently isn't a real sickness. Johnson may have read of the tanguin ordeal in Madagascar, in which accused liars prove their guilt by barfing.)
On scene is Daniel Craig's Benoit Blanc, "Last of the Gentlemen Detectives," recently profiled in the New Yorker ("I read a tweet about the article," says another suspect, Toni Collette's Joni, burnished by unnatural skin bronzers.) Craig uses a Southern accent, with more molasses in it than the one he used in Logan Lucky. This diction increases Craig's likeness to Robert Mitchum. What's all his own is the satisfactory way Craig wears his fine clothes, dandles his cigar and utters Gothic comments about this house full of "vultures at the feast, knives out, beaks bloody!"
To him, the case is a sort of doughnut, the hole beckoning. This metaphysical doughnut is mirrored by a frightening living room sculpture: hundreds of knives, all blades pointing to a vortex.
Johnson gets us out of the house for an encounter with a mildewed old gatekeeper (M. Emmet Walsh) who puts his faith in the sturdy old VHS player he's been using for decades. There's also a car chase justly described by a character as "the dumbest of all time" through a dozing milltown, with only one old witness who lacks the energy to do a double take at the speeding Hyundai careening past him.
The airweight movie is a little furry; we wait in vain for some crack in old Harlan's stern benignness; he has such good reasons for his iron-willed decisions that you want to see a touch of evil revealed. Knives Out is also strangely sexless—unless Miss Marple is the sleuth, Agatha Christie-oid entertainments usually have a bit of plunging neckline and a suggestion of kink. A scene of Evans and de Armas drinking beer at a country inn with Gordon Lightfoot's "Sundown" playing in the background is about as heated as it gets.
Johnson's superb emulation of Hammett and Chandler in his debut Brick (2006) gave us a more energetic mystery, and this sputters a bit by comparison. But he does have a purpose, beyond pastiche: Knives Out is Thanksgiving entertainment for those seething at their relatives over the turkey carcass. Johnson introduces a political element, revealed when the cast starts snapping at each other about the policies of the unnamed Trump; half of these idlers fear dispossession by alien hordes, as represented by Marta's undocumented mom. One member of the clan is an alt-right 16-year-old who never raises his face from his cellphone; he probably stands in for the little pishers who hounded Johnson about the politics of his The Last Jedi as if they thought Darth Vader would read their tweets and ask for their CVs. And so, Knives Out addresses contemporary turmoil in the cozy world of the manor-murder mystery.
Knives Out
PG-13; 130 Mins.
Valleywide